Despite living in an incredibly "progressive" and "organic"-based community, I find that most organic things are beyond me – they are beyond our budget, but moreover, I find soap & water to do a fine job at removing chemicals from our produce and still manage to feed my family well.  One thing I simply cannot tolerate is High Fructose Corn Syrup, HFCS for short.
Back in the early 90s when my PCOS began acting up and no one knew what it was or why I was gaining weight despite following a strict diet, my doctor advised that I begin eating "low fat."  And at that time, there was a plethora of products on the market that were touted as "low fat," but which had enormous amounts of sweetener in order to make the products palatable.  And around that same time, HFCS was fast becoming the sweetener of choice for processed foods – because it was cheaper than sugar, due to governmental meddling (yes, I'm a bit passionate about that particular topic) in both the sugar market and the corn market.  HFCS was everywhere and I ate it frequently and unknowingly.
During a 2.5 year period, my symptoms of PCOS became much, much worse.  In retrospect, knowing what I do about HFCS, I truly believe that that processed sweetener, having all of the chemicals, etc. that it does, helped to damage my pancreas, increasing my symptoms of PCOS and deteriorating my overall health.  Some people seem to be able to tolerate the stuff without adverse effects; I am not one of those people.
Our son, possessing one-half of my genes, is more at risk for pancreatic issues than if he wasn't my biological child.  While my husband doesn't seem to have a problem with it, I'm not willing to bet my child's health on whether or not he has his dad's or my pancreatic markers on his DNA.  And so I'm fondly called the HFCS-Nazi over here.  Really, "Gestapo" is more accurate, but I'm not going to quibble over semantics.  😉
That means that I don't permit our son to have HFCS in just about everything.  Occasionally he has a sweetened soda, but it's infrequent.  He knows to look for "high fructose corn syrup" on ingredient labels at the grocery store, and understands that it's a death-knoll for a product.  My health has improved by avoiding the stuff, my husband has lost about 5 pounds by drinking cane-sugar sweetened soda instead of HFCS-sweetened stuff, and our son has avoided pancreatic problems and issues thus far.
There are some products that I've had a hard time finding reasonable replacements for – ketchup was one of them.  I've tried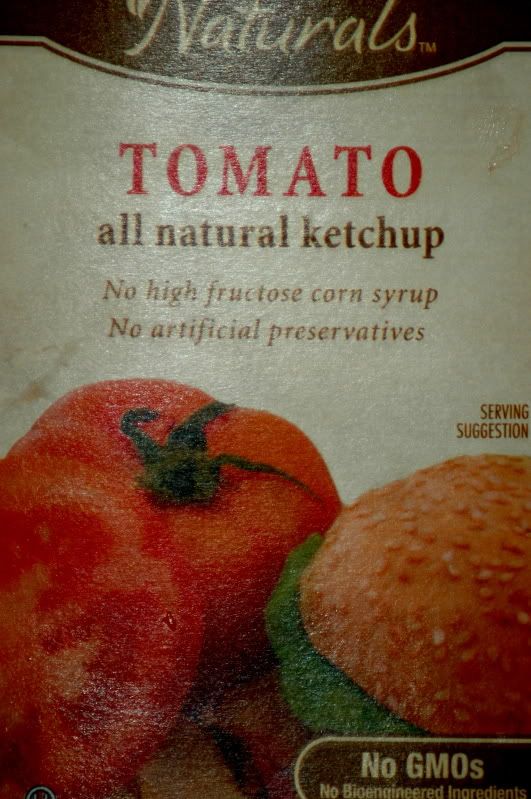 Trader Joe's ketchup and found it lacking; I've tried Heinz's Organic Ketchup and liked it – except for the price.  Then one day last month, I was in Meijer and found a bottle of their "Naturals" line of ketchup – made with SUGAR, not HFCS! 😀
I bought a bottle of regular Heinz so we could compare taste and see which we preferred – we were out of ketchup anyhow.  A quick taste-test determined that we LOVED the Meijer Natural ketchup.  It tasted perfect – not tweaked to a point where we tasted tomato paste or overly salty or anything else.
So while it's a small victory, it feels like a huge one and I'm crazy-excited about it.  Okay, maybe just crazy.  Either way, it's one more thing that I have managed to remove from our lives to improve our health and haven't had to sacrifice taste. 
.