Within 24 hours of the first photo, we released our butterfly.  I was surprised how quickly the final transformation went – two years ago when we did this, it seemed to happen overnight and we didn't have much opportunity to watch.  So here it goes…
The opaque light green of the chrysalis is becoming more and more transparent – you can clearly see the monarch's wings through it at this point.
To the right, you can see exactly how clear it became – this image was taken about 10 minutes before the next one.  I wasn't sure how long we had before our little guy emerged, but within 10 minutes, I was on the phone with my dad and let out a slight gasp – he was out. 
Our little buddy clung to his chrysalis for a while – letting his wings dry out and pump full of whatever blood monarchs have pumping through their little insect bodies.
The photo to the right shows him drying and resting – I hung his chrysalis in front of our wine glasses, and the macro caught the crystal shimmering behind him.  I love it for that reason, but he really is more beautiful than the crystal in question. 😉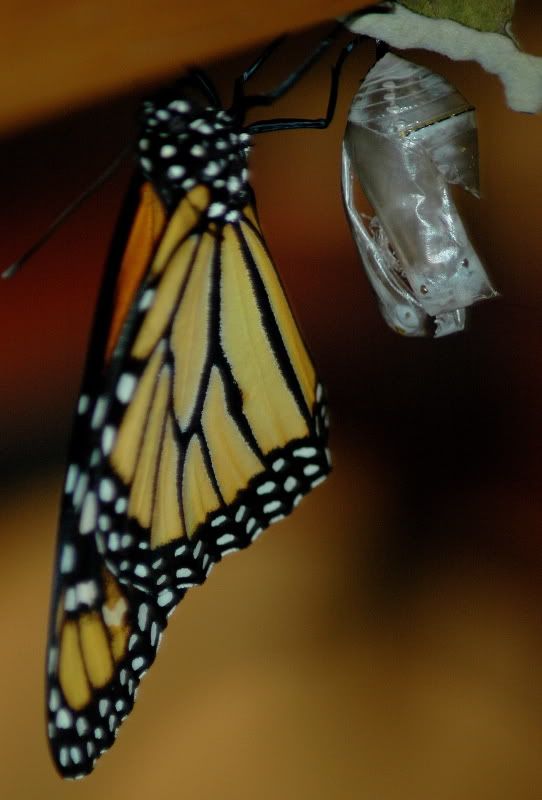 After what seemed an interminable length of time (but was really only about 90 minutes), his wings were "pumped" and he was ready to fly.  He clung to the underside of the cabinet and then to my finger as we walked him outside to the blooming milkweed.
Clinging tightly to the leaf of a milkweed plant, he got his bearings for a moment.  And then Brendan wanted to hold him – and he was more than willing to cling to my finger as I lifted him to Brendan's hand.
In one of the photos, you can see two black dots on his wings – the small dots on the lower wing-set indicate a male butterfly.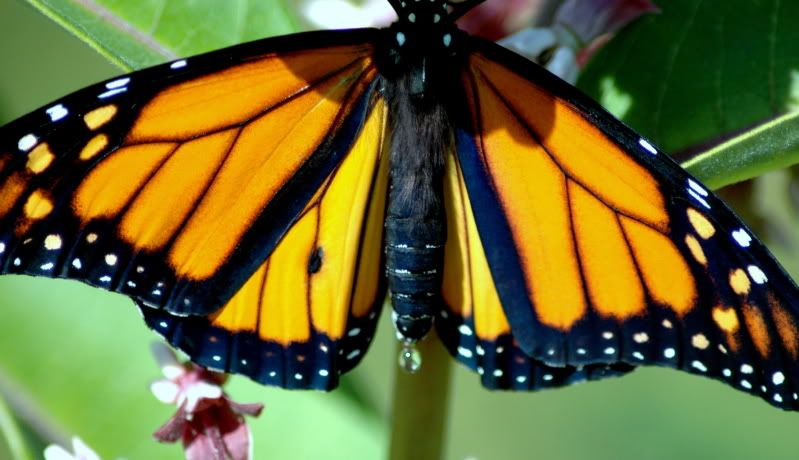 I do not know what the clear droplet is beneath the butterfly – my guess is waste product.  I didn't see it until I edited the images this morning.