I adore raising these caterpillars from tiny to butterfly – and I find myself looking forward to it each time we do.
This year, I mentioned that instead of putting cut leaves in the container with the little guys, we kept them on stalks from my milkweed plants, complete with flower buds and leaves. The challenge is that when the stalks are old and need to be replaced, we have to cut down new stalks and replace them. Okay, honestly it's not that much of a challenge, but here's where it is hard for the caterpillar – these little guys don't like being transferred to the new, fresh stalks. When I did it the first time, Big Boy got ticked – and shot out a string of silk at me so he could stay on his dying leaf. And then, after Big Boy went in to chrysalis, I had to do it to Little Boy, and he did the same thing. They didn't understand that moving to a new stalk would provide them with more and better food, a place to go in to chrysalis safely, or anything else.
Which got me to thinking…
How often in my life do I do the same thing when faced with a new (unknown) opportunity or situation?  The "leaf" I'm on might be dying and providing very little sustenance for me, but do I want to move to a fresh stalk?  Most of the time the answer is, "Not really…."  The comfort of the known is often more appealing than the prospect of better provision in the unknown.  Hmmm.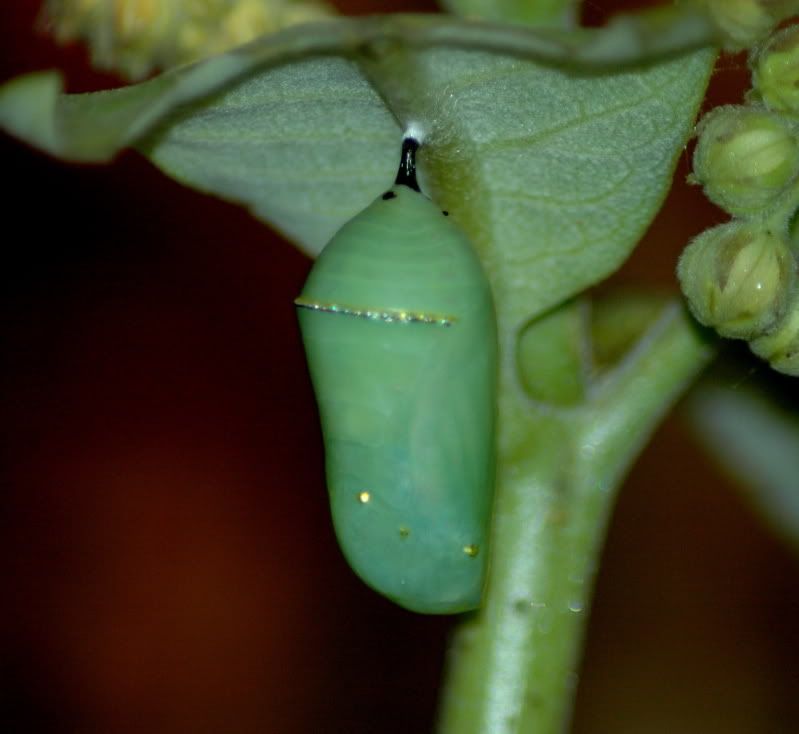 Another thing I've noticed is the gold dots on the outside of the chyrsalis.  Scientists will say that they don't know why there is gold on the outside, what it means, or what its purpose is.  The last time we did this, I doubted my eyes and thought the gold beading was an amber colour, but clear overall.  This time, there is no doubting or mistaking it – it's gold.  And shiny – like a beautiful 24K gold.  I'm sure it's not, but it occurs to me that while this caterpillar, which was beautiful in its own right, is changing and undergoing massive rebuilding/restructuring (a 2.0 for it, of sorts), there is a hint on the outside of the pupa (chrysalis) of the beauty that's forming inside.
Mark and I have been in a pressure cooker in the last year or so – and although beautiful things are coming out of us, we're not done.  And while we've been "pupating" or in our "chrysalis," I'm reminded that there are bits and pieces of beauty that shine on the outside … little bits of gold, as it were.  It's telling that when the butterfly finally emerges from its chrysalis that it has changed form altogether and that when we're done with this pressure-cooker time, we'll be different people altogether, too.  Just as the butterfly needs time to let its wings dry and pump full of life, we'll have a time when we cling to the chrysalis as "comfortable" and "familiar," letting our wings dry and pump full of life.
And just as the monarch is then ready to fly for new expanses and new life, we'll be ready to do the same. I don't have much of an idea what that might look like, but I know this whole experience is preparing us for it.
.