Somehow, time continues to tick along.  Somehow, the little bundle of joy who was *my* birthday present (the best one ever, btw) seven years ago continues to grow up.  Would that I could have stopped time and kept him little forever – but I have yet to figure out how to do that.
Mark & I have officially entered the Star Wars Phase of Parenting.  Brendan is vaguely interested in dinosaurs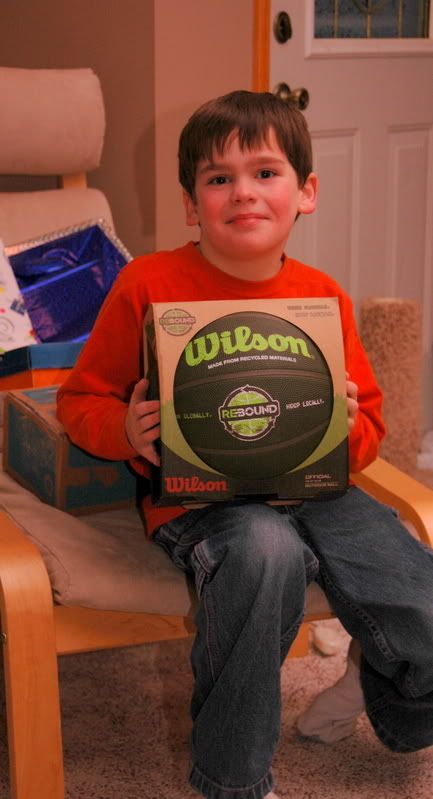 (far less than I was at his age) – and way in to the Star Wars saga.  The funny thing is, until last weekend, he'd never seen the original movies.  He had seen an animated version of "The Clone Wars," but we all know that *that* isn't the *real* Star Wars. 

To date, he's only seen the first one – and by 'first one,' I mean the original one that's now called the fourth one.  That whole "re-numbering thing" on the movies really makes me nuts – keep it 1, 2, and 3 – and call the prequels P1, P2, and P3.  No more messin' with the titles, please.
Regardless, the request was put in early (about mid-August) for a Star Wars cake.  I had a lot of time to think about this and research – and found that Wilton had discontinued Star Wars cake pans back in the early 80s.  These cake pans are now considered collector's items and sell for well over $60 on ebay. 

So I had to create a Plan B.  I considered making a Yoda cake, but decided against that – either a novelty cake or
freehanding a design.  I finally settled on making a light saber cake – and even braved making the fondant.  I've admired fondant for years and never been brave enough to try working with it, but I found a recipe for marshmallow fondant (far easier than using marzipan!) and decided to give it a go.
In terms of making the fondant, it wasn't too terrible.  It would have been easier if I'd had a French rolling pin (I have a small Pampered Chef one only) – as it was, the fondant was thicker than the ideal because of the rolling pin I have.  I think I will buy some powdered black food colour for the next go-round, though – as much black as I put in to the fondant, I was only able to replicate a gray shade as the final product. 

If I try another light saber,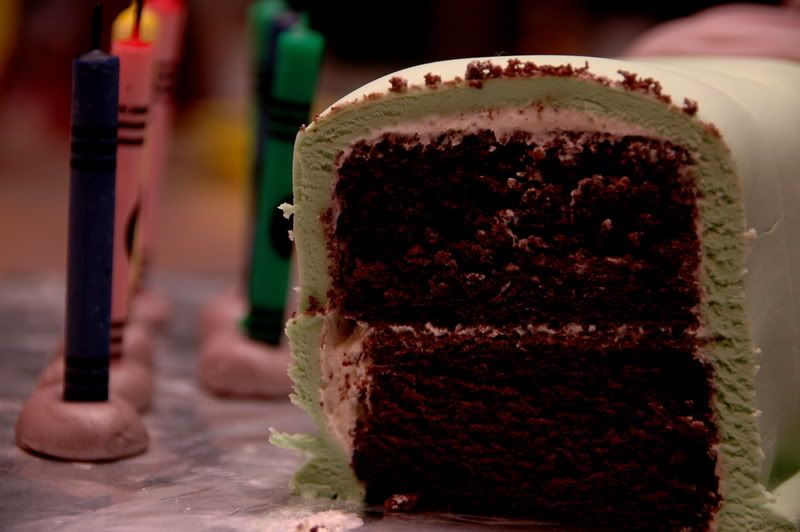 I will also shave the edges of the saber-part and make it more rounded.  I didn't consider doing that when I was assembling it – and wish I had.  Regardless, Brendan & the rest of the crew were delighted with the final outcome and we got a good 17 pieces out of it.
It's hard for me to realize that in a mere six years, we'll be welcoming this creature in to adulthood.  We decided many years ago that we would do the equivalent of a bar-mitzvah for him when he turned 13 and begin to treat him like a man.  That was when he was 3 and the possibility of him turning 13 was oh-so-far in the future.  And now he's even closer to that.
Brendan's snaggletooth (a primary front tooth that was sticking straight out to New Jerusalem) also fell out right after his 7th birthday.  And by "fell out," I mean "Mark pulled it out and Brendan hollered like crazy."  That thing had been über-loose for well over a month and sticking out and shifting while the permanent tooth came in behind it.  No amount of cajoling, bribing, or threatening brought the dumb thing out, but shortly after the birthday celebration, the drama was intense as Mark said, "Oh, this thing is coming OUT!" and Brendan responded with hollering about how much it hurt as Daddy was pulling it.  The funny thing is, Mark had it completely out and in the tissue before Brendan started howling in "pain" – and when shown the evidence of the extraction in the tissue, my kid said, "Oh.  Already?  That wasn't bad at all!" and the howling stopped altogether.
Goofy boy.
.