We spent yesterday (Thanksgiving Day) quietly~at least, in the morning. The weather was cold and we woke to about 1.5″ of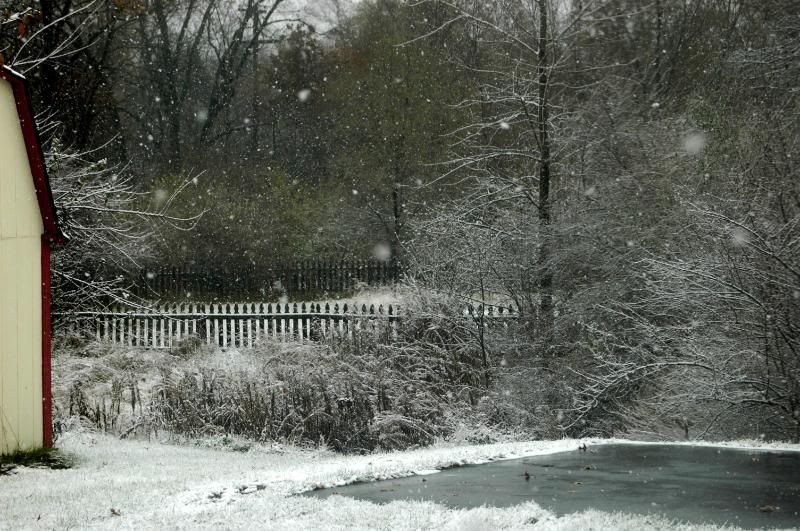 snow with flurries still coming down. It was almost magical to watch these gigantic flakes floating down and have a cozy fire roaring in the fireplace.
And it gave me a lovely opportunity to sit quietly with my cup of coffee and think thankful thoughts.
I heard earlier in the week that it's hard to be thankful without a positive attitude/outlook. I don't know how true that is, but I'm generally a pretty positive person. It's also not terribly hard for me to start cataloging blessings in my life. The same thought continued on the topic of gratefulness by saying that those who have an attitude of entitlement often can't come up with things to be thankful for, because they feel as if they "deserve" things or are "owed" them.
I guess I've been around the block enough times in my short life to realize that no one owes me anything. Well, scratch that. Philip James Bailey said, "Respect is what we owe; love, what we give." So if Bailey is right, all I'm owed (and owe anyone else) is respect. But I don't expect that anyone "owes" me anything~mostly because I let myself down often enough, and to consider relying on others for something important to my life and/or well-being just seems a recipe for disaster.
Interestingly enough, Bailey also had another good quote: "Envy's a coal comes hissing hot from Hell." And although not directly related to a sense of entitlement, it's an interesting concept when applied to the idea of thankfulness and gratitude, for sure.
So in that vein, I realized that although life is not perfect (by any stretch), it's a lot better than it could be. We have a cozy home, we're warm and well-fed, and we have an amazing little family. We are deeply blessed to be where we're supposed to be, doing what we've been born to do, and the freedoms we enjoy are second to none, in the spectrum of the world's countries.
We spent the afternoon and early evening with some friends from Mark's office; we had the opportunity to drive out to north of Grand Rapids for a time with my cousins, but the time involved in the drive and the cost of gas made it too challenging for us this time around. If gas wasn't $3.25/gallon and I didn't have a full list of shopping for Black Friday that required me rising at 3:30am, it wouldn't have been a problem. And it's a bit of a pain, because I love my family and wanted to spend time with everyone. But the practicality of a 4 hour round-trip inside of 6 hours just made it not feasible.
Regardless, we had an enjoyable time, even if something I ate caused me quite a bit of gastrointestinal distress today. ๐Ÿ˜
~~~~~~~~
I did end up going to bed early last night and getting up at the butt-crack of dawn this morning. Kohl's opened at 4am, and I was there by 4:15. It's amazing, but our little town has *never* been this empty~at least, when I've been up and moving around. But at 3:55am, the streets are virtually abandoned; I was the only one driving around and I saw no one on I-94 until I was nearly in Ann Arbor.
I started at Kohl's, found what I wanted to buy for gifts, but couldn't find the end of the line to pay.
Literally. I couldn't find it. It wrapped around the inside of the store (back and around) TWICE. I looked at what was in my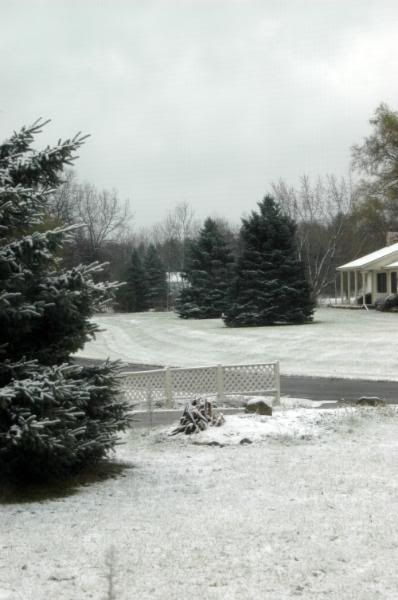 arms, what what supposed to be the end of the line (but wasn't), and contemplated a moment. Then I stashed my horde under a small display table and its tablecloth and left the store. I figured I could hit other stores and then come back when I was done everywhere else. And if my stash wasn't there, then I'd either try to re-find it or I didn't need to buy it and would come up with a "plan b" for my gift list.
The main problem appeared to be Kohl's planning "doorbuster deals" that were earlier than stores in the area, but they only had 6 of the 12 or 16 registers open in the entire store. ๐Ÿ˜
Not the greatest planning, if you ask me. But I did notice that no one did ask me. ๐Ÿ˜ฎ
So then I hit Meijer, Target, and JoAnn before heading back to Kohl's, and sure enough, my stuff was right where I'd stashed it. Then I met up with my two (new) "long lost sisters" who were holding a place in line for me (we'd arranged this in the aisle at Target), and we waited, chatted, and helped others in line with us as we passed our time and crawled to the registers to pay. If I had to spend an hour winding my way through a store, creating an impromptu camaraderie isn't a bad way to do it. These women and I will likely never see each other again, and yet we shared tales, experiences, stories, and laughs while we helped each other, and it was a memorable time for me. Who says northerners are "unfriendly"? They've clearly never been out on Black Friday and stuck in line together. ๐Ÿ˜‰
I was home by 8:30am, and that's not bad work for a little over 4 hours. I'm virtually done shopping for everyone except Mark and one nephew, and for me to go shopping without having to drag a reluctant 5 y/o along, that's pretty darned good. Yes, you figured that right: while I braved the cold and crowds, Mark and Brendan slept soundly.
Over all, it's been a great holiday weekend thus far. I've got much to be thankful and grateful for, and I'm enjoying the time we have together. But now, because I've been up since the butt-crack of dawn, I'm going to bed..