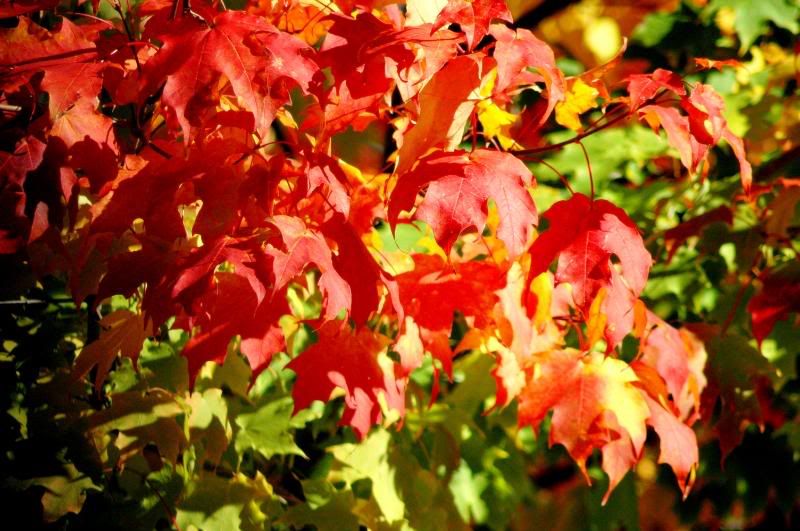 The fall colours this year have been odd~it was so warm (hot!) for so long, that it seemed as though the leaves would never turn. They eventually did, and the show was spectacular, but it was a short show. One particular Sunday afternoon, we drove around and I shot some of the leaves and their vibrancy…and here is one of the results.
This time of year is intoxicating to a colour-freak like me.
We also had our first leaf-burn (ever, for me) here. Shortly after this show of natural fireworks on the trees, the wind took over and removed all of the leaves from their branches. And remembering our friends Max & Jenny and how painful it is to rake and >bag< the leaves, and knowing there is no leaf pick-up in the country, I convinced Mark that raking them to the garden plot and burning them would be safe and efficient.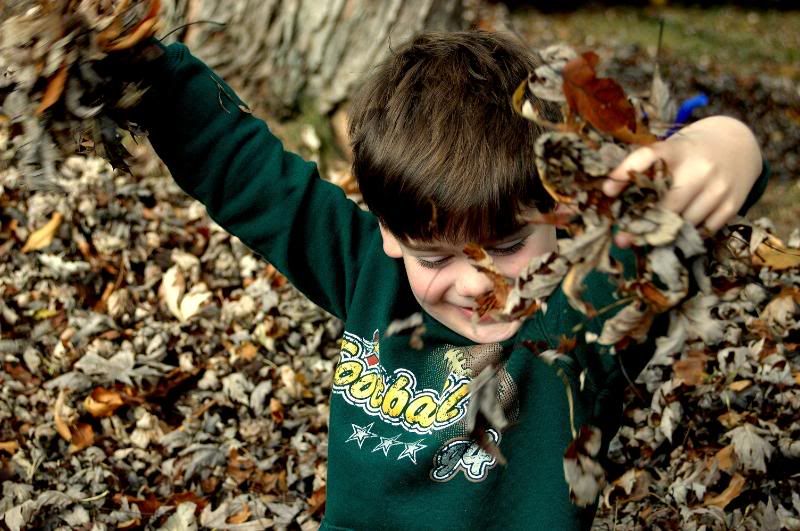 Brendan had a glorious time doing small amounts of raking and large amounts of jumping in leaf piles and lounging; I took photos and manned the fire, and Mark raked and ended up with blisters on his hands.
I was amazed at the quantity of leaves our gi-normous maple tree dropped. It was (quite literally) a good 2″ deep and took up a good third of our backyard. Raking and burning, though, is far more efficient than raking and bagging, and the quantity of waste product is far less. We don't have a mulcher on the lawn tractor, and doing this is much less expensive than buying a bagging attachment.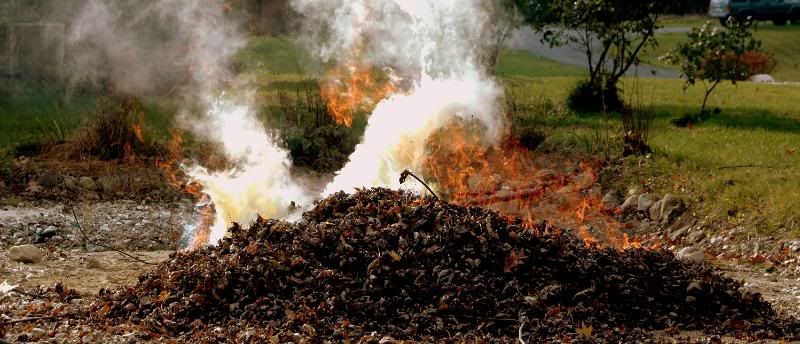 And because Mark has a firefighter for a brother, the fire was carefully tended the entire time. We used a garden rake to maintain the even burning and stir air in to the pile, and Brendan learned about not fearing fire but respecting fire. An important distinction in our minds.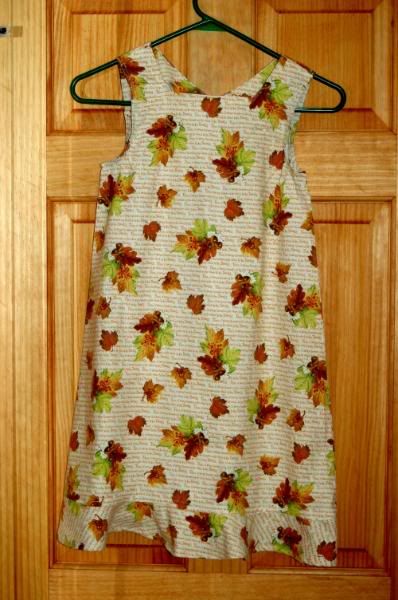 I've also spent time recently at the trusty Viking sewing machine, sewing dresses for a friend's daughters. An easy pattern and once I figured out how to re-cut the back of the dress (because the fabric has words on it and I didn't realize I'd cut the pattern piece upside-down for the words), it went smoothly. I made one in a size 8 and one in a size 4 and was annoyed at the missing instructions on the pattern, but it worked out okay. The pattern listed "bias tape and thread" as the notions required, but one of the steps clearly required fusible interfacing. Happily, as an experienced sewer, I had some on hand. But a novice sewer wouldn't know to buy it and most likely wouldn't have any, which is annoying of the pattern-maker not to mention on the back of the envelope. Ah well…
And on the heels of this project, Brendan's marker box croaked once and for all. So I made him a small bag that would stand up and hold all his crayons and markers. I didn't have fabric on hand that was sturdy enough to stand up to his use and abuse, but I did have a pair of Mark's old jeans that I used for patching his current ones. So I cut what I needed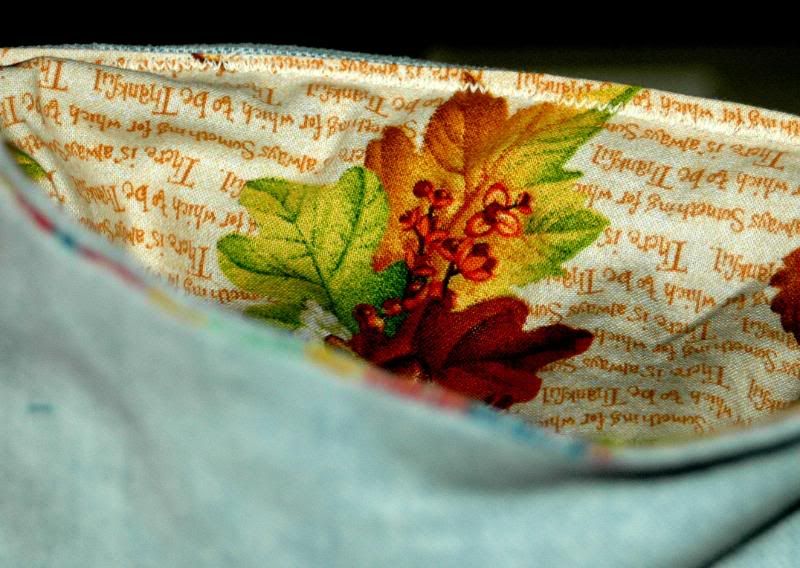 out of the legs of the jeans, lined it with scraps from the dresses, and embellished it with multi-coloured thread that I received as a gift when I was a girl living in Japan.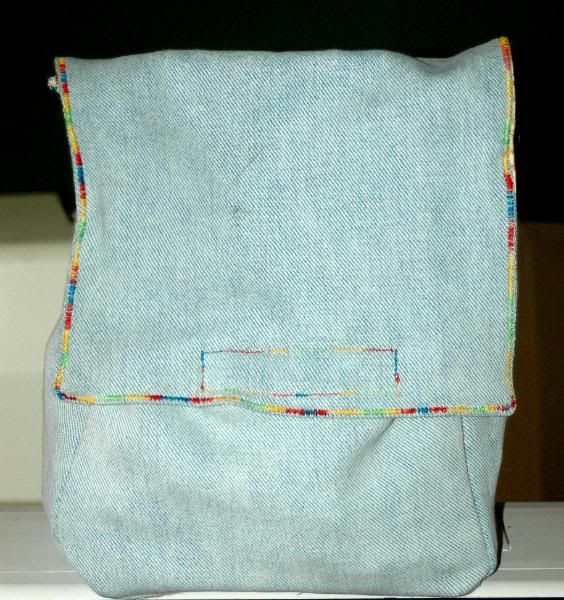 I like the final product and it works well~and I freehanded it all the way. I just had an idea in my head and worked it until I was satisfied with what it looked like and its function. The bottom is rectangular and strengthened with several layers of interfacing and fabric, and the top has a piece of velcro sewn in to it to keep it closed. I did discover that the thread I used for embellishment, although cool and nostalgic, probably wasn't the best for the project. I had to use a size 14 needle to make it through the denim and lining, and the thread was fine and could have used a size 11 needle. So there were several times when I had to take out stitches or re-sew because the needle cut the thread or it got jammed up in my machine. 😐
Now it will probably be on to sewing curtains for the basement windows, but only after taking time for one more leaf burn and playing in the leaves with my boy.
.