Okay, I just can't believe I typed that title.
WHERE did the time go? It was only last week when this precious little boy was laid in my arms and I got to look at the little creature who had poked, prodded, and reminded me of his internal presence for the last several months. He was so tiny, so sweet, and so… ticklish? Yep, as I stroked his back and he snuggled under my chin and on my chest that first night, he *squirmed* as I stroked him…a sure indication of being ticklish and certainly a foretaste of the fun to come.
At some point that evening as I held this little guy and stared in to his face (and was befuddled, because I thought he was going to be a girl!), I realized that I wanted to homeschool him. Nevermind that he was *hours* old, or that he was a long way away from working the quadratic equation–I just knew that I didn't want to leave this precious little boy and that I wanted the privilege of educating him.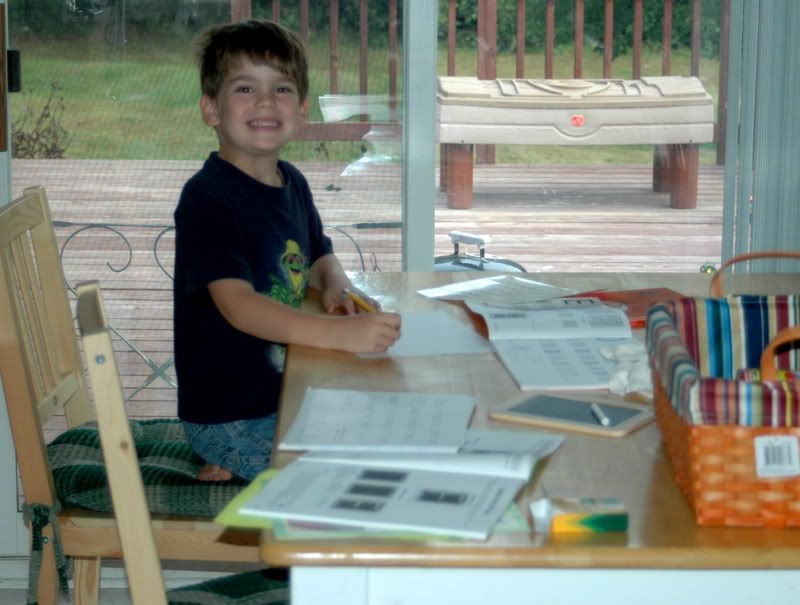 So yesterday was the beginning of that fulfillment for me. Brendan started Kindergarten.
All of our materials and books have yet to arrive, but we're using what is here. And right now, that's Handwriting Without Tears. This is the first time that Brendan has ever practiced his letters without crying, and I'm amazed. His personality is such that he finds things he struggles with to be a frustration instead of an exhilarating challenge. Which makes us have to think outside the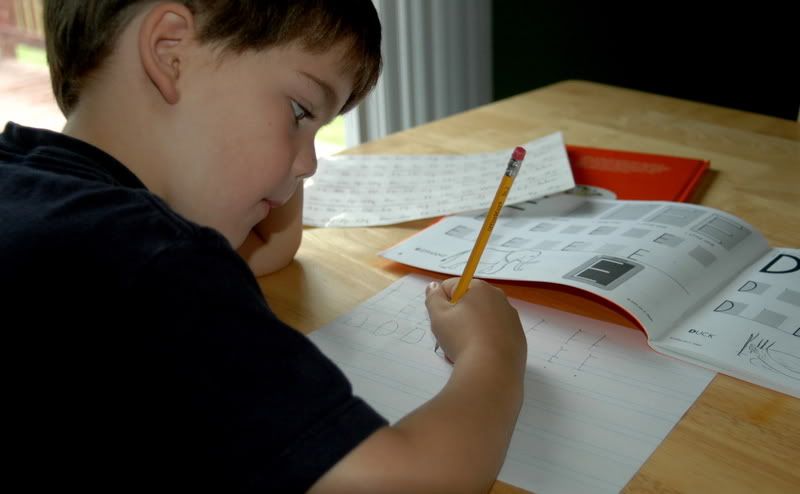 box as far as parenting him, for sure. But this material is SO good and SO amazing that I find myself a bit jealous that it wasn't around when I was learning to write. Seriously– "frog jump letters"? How fun is that? Ah well….
And we're working on word recognition. Brendan knows his entire alphabet and can even say part of it backwards. Because he's 'getting there' with his sound-memorization (i.e., "A as in a-pple"), and I know there are simple words that defy the sounding-out rules (such as "the," "of," "you," etc.), I began to teach him a word that he would just have to memorize, because sounding it out wasn't going to work. Yesterday it was "you," and he looked on each and every page to find and recognize that word. Some pages had m ore than one, others had none. But "Green Eggs & Ham" will not be pored over quite as much as it will be in our house this fall. 😉 And when he can read nearly all the words in the book, we'll *make* green eggs together and cement the time we've spent in Dr. Seuss' world.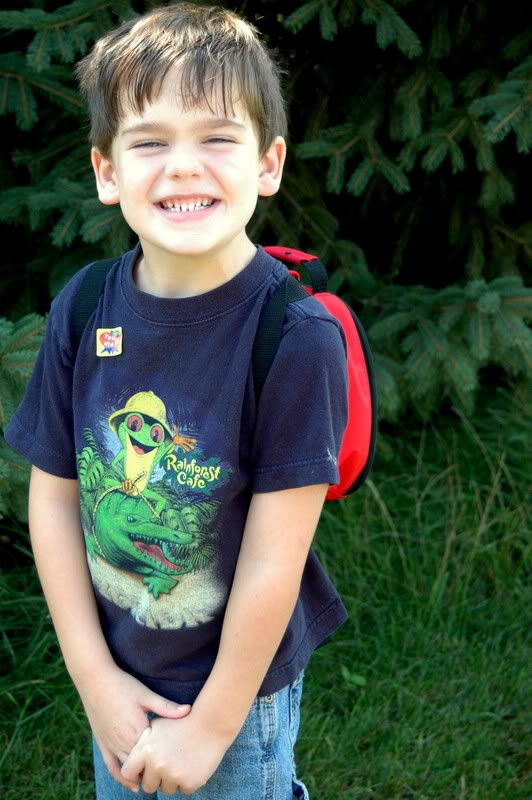 I packed Brendan a lunch in his lunchbox (the ladybug backpack you'll see in this photo), even though it wasn't really "necessary." It was a fun diversion and one that he enjoyed immensely.
I have to say, as the "first day of the rest of Brendan's education," it was a good day. Today went smoothly and we actually went over our alloted time with an art project. But that's okay with both of us–especially me.
.