Okay, so my husband's not crazy.
Well, not that crazy, at least.
Yesterday afternoon he whispered, "Grab your camera NOW and quietly get up here! There are eaglets in the backyard!"
As I grab the memory card and insert it in to the camera, I'm thinking, "No way! There *can't* be eagles around here! Cranes, yes. Eagles? Nah…" and I decided that he was bonkers.
As it turns out, he was only slightly bonkers. There were predatory birds in the backyard. Not eagles or eaglets, but peregrine falcons! There was a mature (assuming female) and a juvenile bird, both flying down from a low branch in the

maple tree out back. See the image to the right; I didn't have my telephoto lens on, so there is a limit on the amount of clarity in the picture I was able to achieve.
In researching to make sure I was right (and I'm 99.9% sure I am, based on comparisons to other raptors, their appearances, and their migration patterns), I came across a cool site called WhatBird.com. Truly a useful site, as it not only has illustrations of different birds, but migratory-pattern maps, a "rule-out chart" where you can pick different aspects of a bird you've seen in order to identify it, and bird calls. The sound of the call was what clinched it for us; I'm not particularly good at identifying bird calls, but Mark is. So I played two calls when I had it narrowed down to two different falcons (the prairie falcon and the peregrine falcon), and Mark said the peregrine falcon's call is what he heard last night as we were going to sleep. Score!

So to continue cataloging our wildlife habitat up here, we have: deer, rabbits, a ground hog, chipmunks, and peregrine falcons. Although the existence of the last one might nix the existence of the second-to-last one in our backyard. 😮 But such is nature, eh? I am a little more concerned now about our impending chicken coop and my future hens; I'll have to secure the top of the coop very well in order to prevent loss to the falcons and/or any other predators in the area.
Did I mention that I LOVE living in the country? So incredibly cool!
~~~~~~~
I continued to bake with our fresh blueberries last night…and created some *amazing* blueberry muffins. I think the boxed Betty Crocker blueberry muffins will never be sufficient again. Not as long as I have a friend who has a blueberry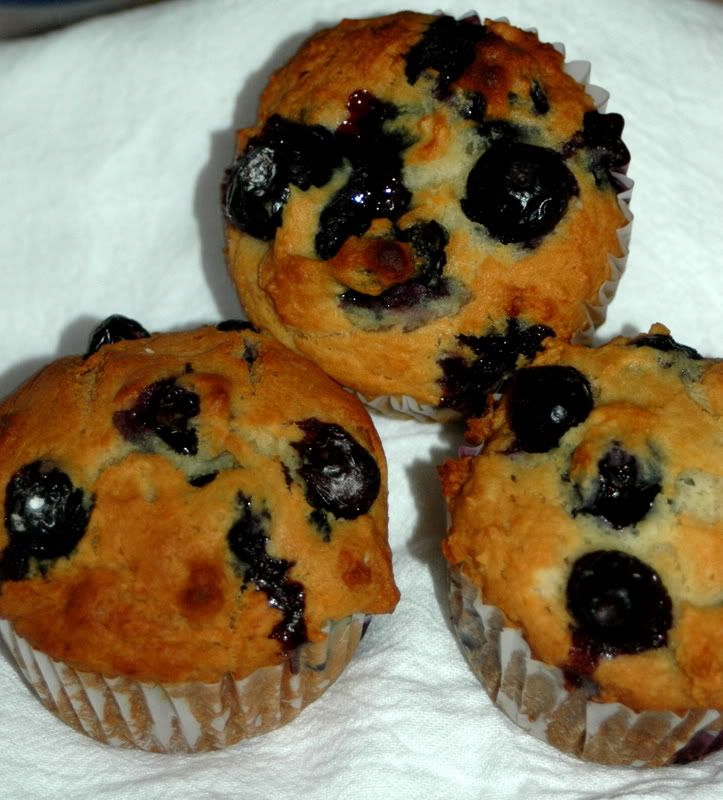 farm and this recipe. 😉 Check out the "Recipes Worth Sharing" page and find the blueberry muffin recipe. They are amazingly tasty.
I did leave them in for about 2 minutes too long, so a few of them were overbaked a bit. Which didn't really change their taste or texture that much, but it did make the crumb of the muffin a bit darker than what I expected and/or wanted. So next time, I lower the baking time by about 2 minutes and let the final bit of carry-over finish baking them through. 😉
~~~~~~~
And finally, I had my first REAL EGG last night.
Okay, that's not entirely fair, because we did have chickens while growing up and I ate their eggs all the time. But I have no recollection of them–kids' palates are generally underdeveloped and unsophisticated. But this was my first time of eating an egg that didn't come from the grocery store as an adult, and let me just tell you…
It was amazing!
I mean, spectacularly incredible. Any other superlative you can put in there still wouldn't do it justice. And I eat a lot of eggs! But I have never had eggs like this.
When I cracked the eggs, the yolks and whites sat up firm and high, and when I tasted them (I scrambled them), there was a freshness that was otherwise intangibly different. I can't really come up with a decent descriptor except to fall back on what the French say is a je ne sais quoi. But I don't think I'll readily eat another grocery-store egg (which are generally quite old, esp. in comparison to farm-fresh eggs) again. The price of farm-fresh eggs isn't that different from grocery-store eggs (usually about $.50 more per dozen) , but the taste is entirely worth it.
So those are my ramblings for the moment–some odds and ends and some pretty cool discoveries around here.
.