…contrary to Clarence "Frogman" Henry's song from the 50s "Ain't Got No Home," our little frogs do have a home. At least, they did as of 5pm last night.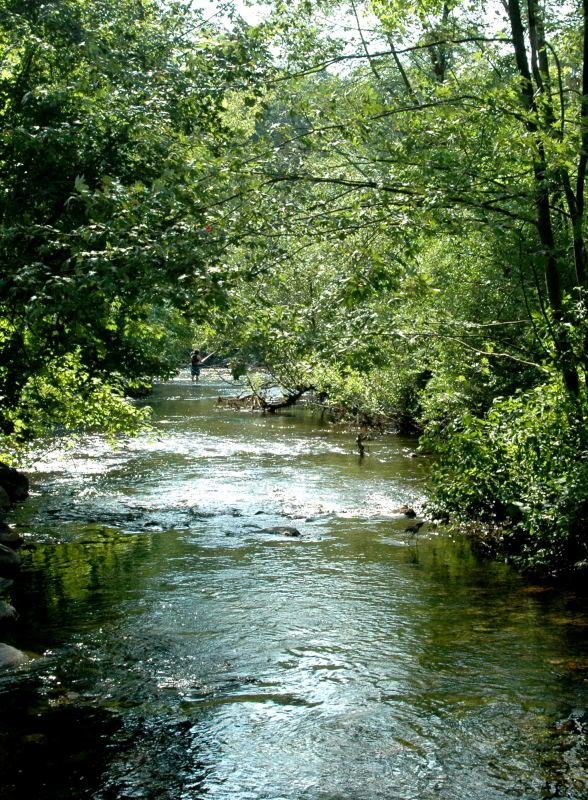 We drove over to Hudson Mills, which is a beautiful metropark close to our home. I had a particular path in mind that winds by the Huron River, but danged if I could find that path! We took all the different roads back to this area that I thought there was, but we missed something. So in light of the time and the fact that dinner wasn't in the oven, I opted for a closer spot, one called "Rapids View." Before you kayakers get excited, it was a small (small, small) stretch of river with a few white-water caps, but it was beautiful. See the photo to the right for an idea of the locale.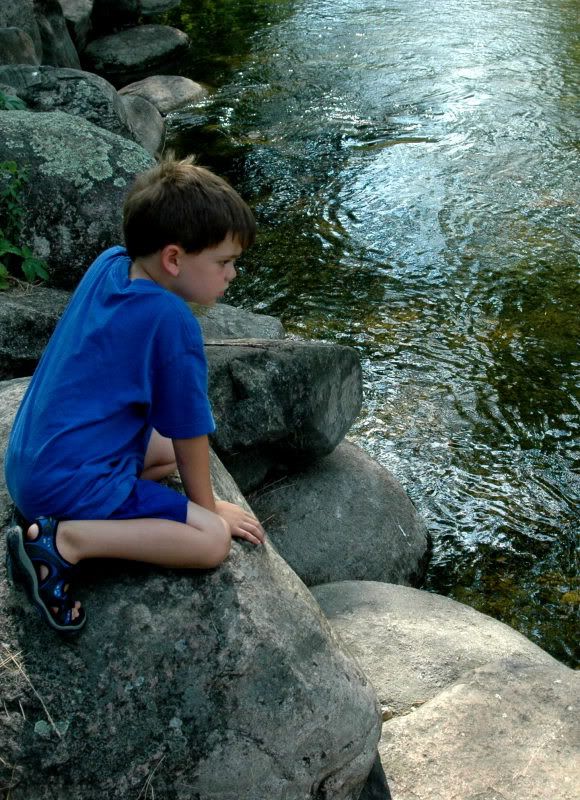 Anyhow, it turned out that as we were looking for a spot in the shallows, Brendan decided to play "rock climber" and scared me out of my wits…the rocks were large, right on the river bank, and somewhat slippery with lichen and moss. But he managed to scrabble over them, giving both the frogs with the sticky pads and Spiderman a run for their money. 😉 Maybe one day he'll scale parts of the Appalachian Trail like his Aunt Nettie does.
There were tears at this event, but unlike my prediction, it had nothing to do with letting the frogs go. It had everything to do with being tired, hot (it was 99F yesterday), and cranky–and no, it wasn't me who was crying. 😐
Mark and Brendan held the little guys–both of them–and we set them in relatively close
proximity to the little culvert/riverbank. Our third frog went MIA sometime during the day; the paper that I had weighted down on the open area of the tank lid was missing, and so was one of the frogs. I looked all over and couldn't find hide nor hair of him, so I figured he was a little cat-snack. 😛 Mark will be the only one who really knows, since he cleans the litterbox.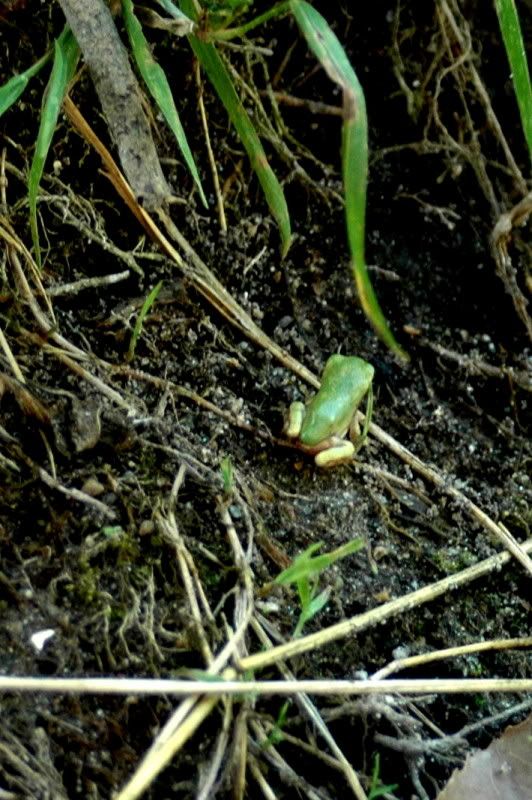 We put both little guys in the same muddy/grassy bank area, but one hopped around in to the water more than the other. I'm quite sure they were examining their surroundings and that their ancestors never saw more than just the inside of the old pool cover, but they seemed to fit in here well enough.
We walked around the park for some time, appreciating the little creek that fed in to the river and the most gorgeous dragonflies I've ever seen in my life. Unfortunately for me, by that time, the battery in my camera was in desperate need of being recharged and wouldn't cooperate, but I think we might go back tomorrow and see what I can get. It's cooler here already 😀 and it draws me to the park.
The last picture below is the little frog who seemed to be more comfortable in the shallows of the stream than on the banks. He's got a pretty decent camouflage going, so unless a whooping crane found him (they nest at this particular park), he's probably still around, making noise and looking for food.

.