…or, science in the summer.
We have a veritable science fair in our kitchen right now and I'm loving every minute of it. I had chickens, ducks, geese, and dogs growing up, but never anything like this.
We ended up rescuing tadpoles from certain death when the pool was disassembled on Monday afternoon and the pool cover was drained. The water was quite rank and foul, but the tadpoles were everywhere. And they seemed to know exactly what the skimmer was and that they should hide from it. Which I found quite odd.
Anyhow, I captured a good 20 or so in mason jars, and the neighbor girls went home with several. Mostly as a reward, since the 9 y/o was the one who picked the tadpoles out of the skimmer net and put them in the mason jars. For the mama to a boy, I'm still pretty squeamish about slimy things like that. 😮
The tadpoles will grow in to smallish frogs that make a *ton* of noise, and so I broke the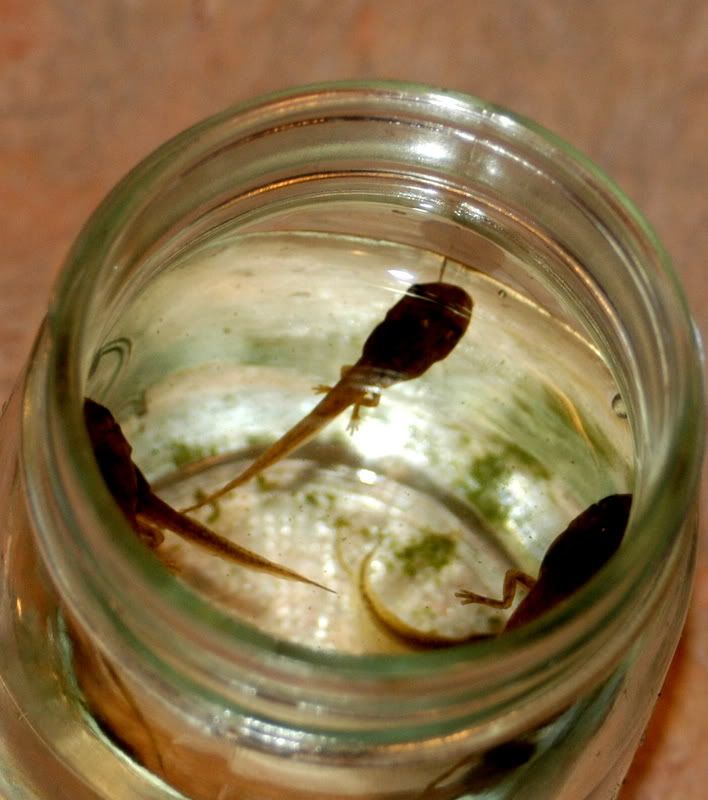 news to Brendan that when the tadpoles lose their tails and have fully functioning legs, we'll take them to Hudson Mills Metropark and release them. He was quite disappointed, but will survive…there's no way I'm going to house a bunch of noisy frogs in the house! 😐
They are in varying stages of development, but all have some level of leg-development. And they poop like crazy! Brendan is amazed at the quantity of green poo in the bottom of the jar. 😛 We're getting to where we need to feed them, and I think we'll try two things: we'll put them in a sand pail on the backyard to let them eat mosquito larvae, and we'll supplement with boiled, chopped lettuce. We realized that although the water on the pool cover was quite stagnant, there were no mosquitoes from it, mostly because the tadpoles were eating them. So we'll let nature take its course and feed them that way, with a small insurance policy in the form of lettuce every few days.
And then there's the project that I'm most excited about: monarch butterfly eggs. I'm part of a gardening group and one of the women hatched monarch butterflies a few weeks ago. Brendan and I followed her journey on her blog as part of our science studies, and I let her know how much we'd like some milkweed when it was time to divide and transplant. She was so generous and offered us not only milkweed come September, but monarch eggs and leaves right now! 😀 So we drove to her home and learned about their care, coming home with 4 eggs and a stack of milkweed leaves.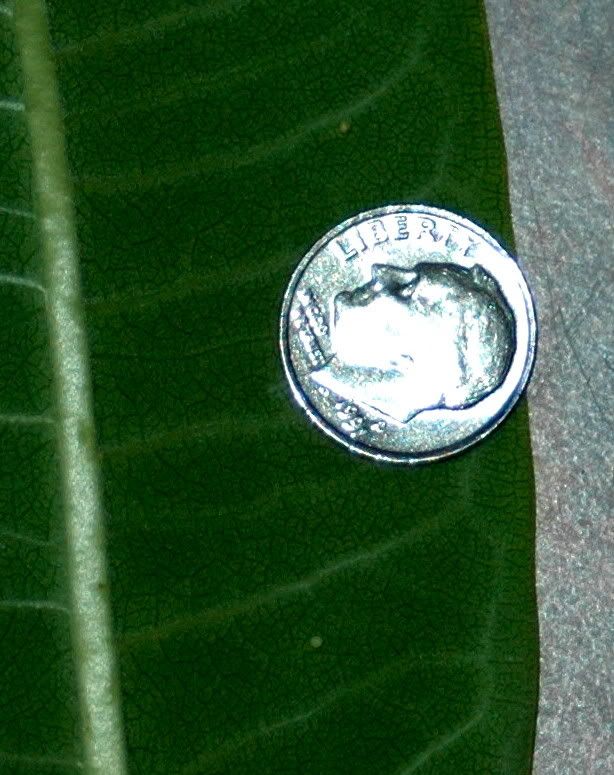 In the photo to the left, you can see two VERY tiny bumps on the leaf above and below the dime. Those are butterfly eggs! I put the dime on the leaf to show how small they are…it is amazing!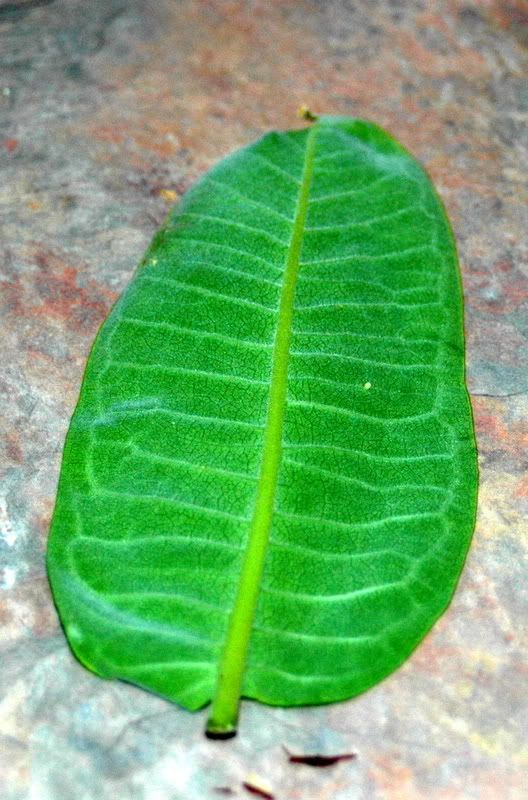 To the right, you can see one teeny, tiny dot on the right side of the leaf, and that's another egg.
These eggs will hatch in to very tiny caterpillars that will eat milkweed and grow and grow to enormous proportions, especially considering their starting-size.
Then we'll have a preparation time as they get ready for chrysalis, or what we were told when we were kids were "cocoons." And actually, only moths make cocoons, butterflies make chrysalises. What we were told is *wrong*! 😮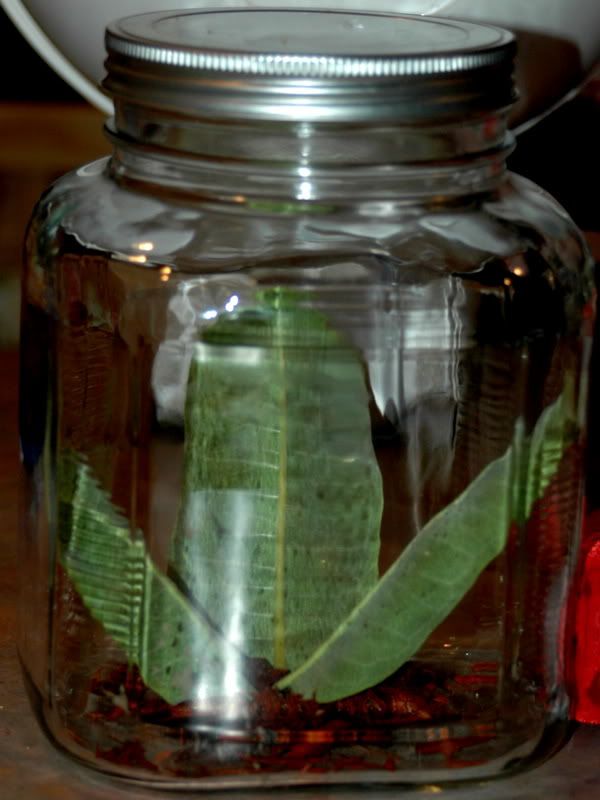 We're keeping them in a glass jar and for the moment, the lid is loosely on. As the caterpillars hatch and grow, we'll remove the lid to prevent too much condensation from forming on the jar sides.
I've been excitedly checking the leaves several times per day to see if we have a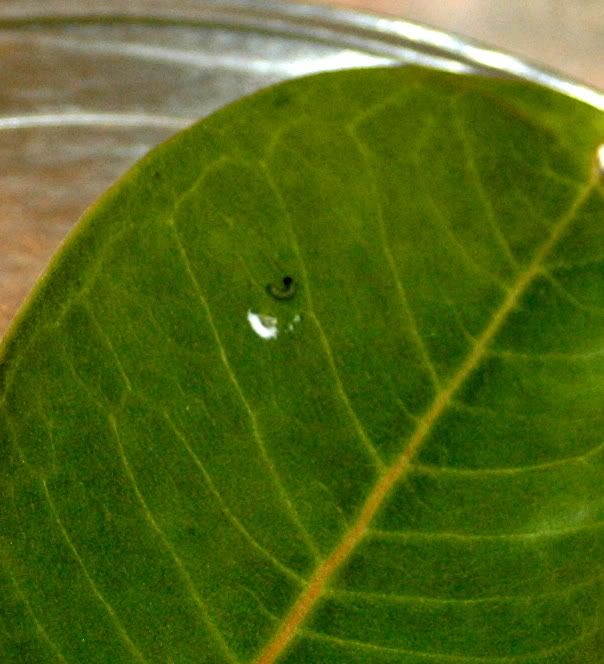 hatch, and sure enough, we had a caterpillar hatch TODAY! 😀 It is a tiny little guy and so cute! If you look carefully at the picture on the right, you'll see the small black spot as being the little caterpillar's head. I'm trusting he'll be just like Eric Carle's "Very Hungry Caterpillar" and begin chowing down on the milkweed leaf he's on as his little jar-mates hatch and acclimate to their surroundings and find their appetites.
Stay tuned for the growth, chrysalis, and metamorphosis of these little guys–I'll catalog it through photos and blogging and take it all the way to our release of the butterflies in to the area.
.