Oy. I've been so busy outside lately that I haven't blogged even once! 😐
No more.
So what have I been doing outside?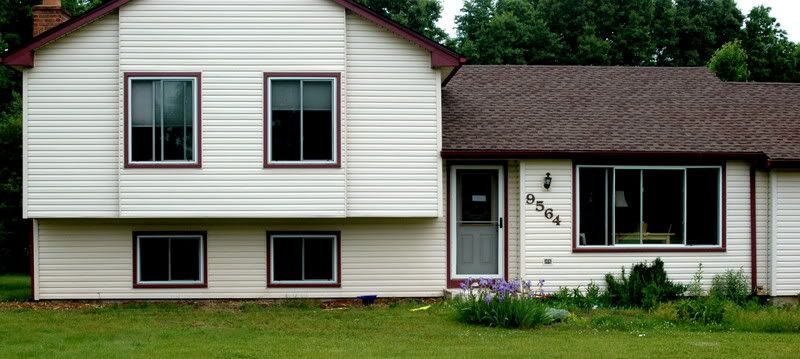 weeding the kidney-garden (again)–and this time, putting down mulch
having bushes/shrubs removed from the front of the house (see photo to the right)
planting a Korean Dogwood tree (pink blossoms next spring)
pruning every other tree/bush that stood still long enough to take a saw or pruning shears to it
caring for my peonies (see photo to the right) and dealing with the carpenter bees
figuring out that our "groundhog" really isn't a groundhog at all–he's a SHEDhog!  The little guy lives under the outbuilding/shed in the backyard and will be sorely disappointed when we hack down the bushes that are surrounding it.  😐
spending time at a local lake and making a subsequent trip to the Dollar Store for blow-up water toys
mowing
watching Brendan learn how to ride a 2-wheeler without assistance 😀
learning how to change the oil in the lawn tractor (and successfully doing it!)
planting flowers at my grandparents' graves in Adrian, and teaching Brendan how to pump from a well
and more…
So I haven't even been knitting that much…I'm too dog-tired when I get in from the sunshine. But it's so darned pretty out there that I can't help myself. I can't stand to be inside when there are things to do outside and it's not inclement weather.
Lessons I've learned while outside:
Before you have shrubs removed, know that the siding behind them is *filthy*. Like "eewwww" filthy. 😛 Have a plan in mind for cleaning the siding. A note to those who might have to do this: outdoor Windex in the hose/sprayer bottle does nothing to siding dirt. 😐
If you decide to weed one garden and wait until the other garden(s) are ready for mulch, don't. If you doubt me, go back to the "weeding the kidney garden again" part above. Mulch as soon as you weed. 'Nuff said.
If you have peony bushes and are trying to determine what type of peonies you have, don't bother looking at the numerous "peony fan club" sites out there. You won't find the answer there. The determination (after hours of research and one measly phone call–the phone call answered the query) can be made by the time of bloom. "Tree peonies" bloom in May in zones north of 6b (I think that's largely the northern Georgia area and points further south). "Herbaceous peonies" bloom in June and despite the "woody sticks" you might see in the fall and winter for an herbaceous peony that wasn't pruned back properly, it's still herbaceous and not a tree. The care for these two types of peonies are drastically different, so it's important to know what you have, especially if you didn't plant it yourself. 😉
If you decide to take arnica montana as an herbal means for aches and pains, take some before you subject yourself to said aches and pains. Seriously. Otherwise you'll be hobbling around like me, sore from pulling weeds and find that one or two doses after the muscle strain really don't do diddly-squat.
Well water doesn't *have* to taste bad! When we were in Adrian at the cemetery, there was an old-fashioned well-pump there. And since we planted impatiens, we needed the water. Brendan had a great time pumping it, and the water was cold and clear. And honestly, since it was hot and I was thirsty, I took my life in my hands and drank the water. To my utter shock, the water tasted GREAT! Seriously–clean, fresh, ice-cold…and no odors. Which made me wonder what the difference was between our well water and the water at the well in Adrian. My only conclusion is location–water here in Dexter is b-a-d. 😛 Seriously bad. Hard, lots of iron, and usually, iron bacteria along with it, creating a lovely sulfurous odor. :::blech::: Apparently, where the well is dug (inside or outside of the Dexter area) makes a difference. 😉
This has been plenty long in terms of catching up…there will be more posts to come. Soon. I promise.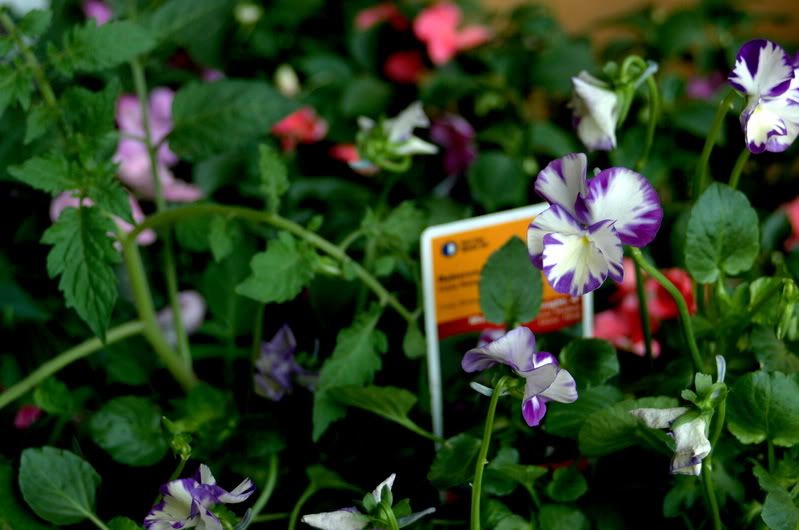 .