I have about 3 different posts waiting to be written, but for tonight, this one takes precedence over the ones that predate it. Mark whispered for me to hop upstairs and check out the groundhog in the backyard. He & Brendan told me about it earlier, but I honestly thought they were imagining things. We have had does in the backyard, frogs in the pool (which make an AWFUL racket!), and rabbits in the front yard. But *groundhogs*?
So I trotted up like the dutiful wife I am, and happily, had the camera at the ready.
Turns out my boys weren't imagining things; there really WAS a groundhog in the backyard! Which explains the massive dirt mound in the middle of the yard that I mowed over last night. 😉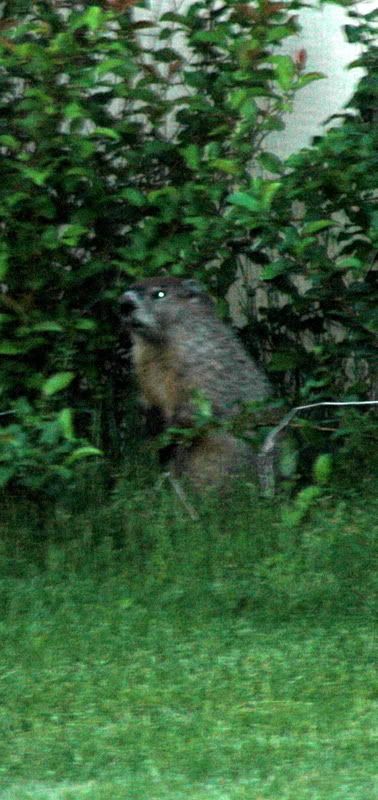 This guy was munching on some thorny bushes next to the storage shed; we have no idea exactly what bushes they are, but they had beautiful reddish blossoms on them last week and wicked-long thorns on them year-round. They will be removed eventually; Mark wants to plant more irises over there.
Regardless, the resolution of the pics aren't the greatest; I had the 70-300mm lens on, and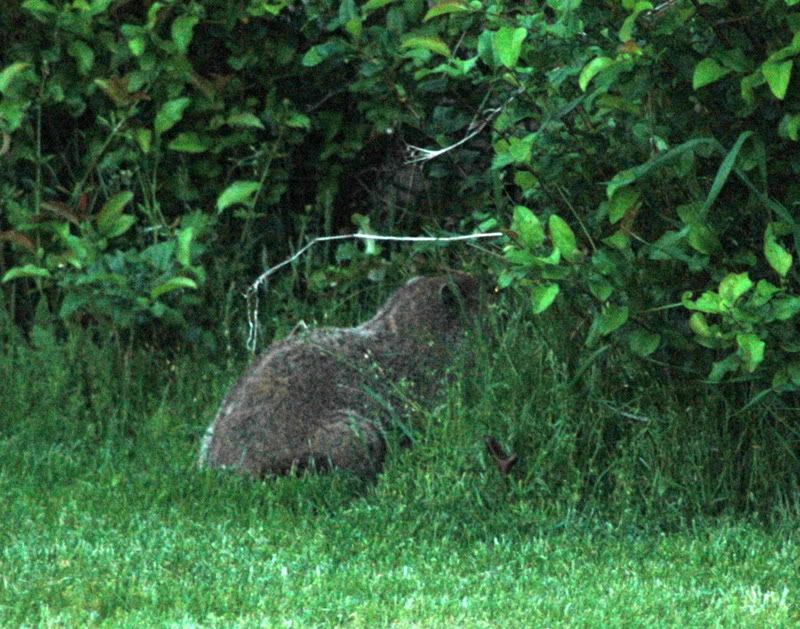 unfortunately, had to use a flash to reduce camera-shake and speed up the shutter.
To the right, you'll see the same groundhog, but only his haunches are visible. He got a bit spooked at the flash (despite the fact that I was a good 50 feet away from him) and disappeared in to the grass and bushes for a few minutes, but this shot was enough for me. I did feel a bit like a sniper out there; waiting patiently, looking through my lens, and waiting for him to re-emerge. 😉 It was a bit surreal.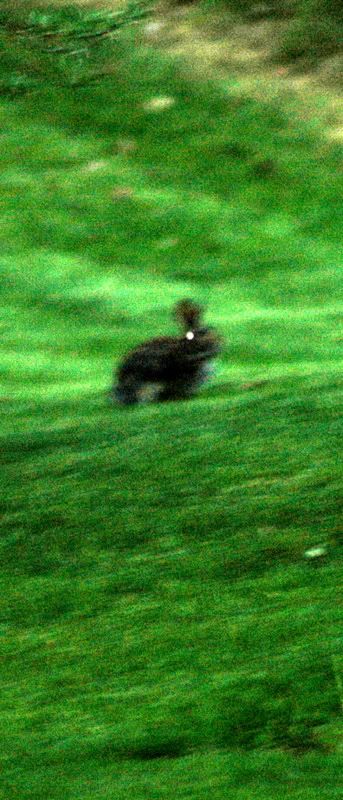 Simultaneously while waiting for the groundhog to reappear, a small rabbit came hopping out of the overgrown honeysuckle thicket. The same honeysuckle thicket that veritably *attacked* me last night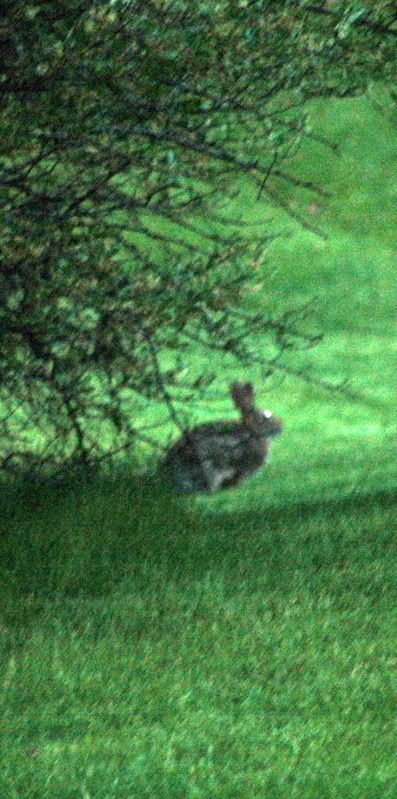 while I was mowing around it: depositing blossoms and twigs in my hair, on the mower, and (embarrassingly), down my shirt. 😮 Did I mention this thicket is going to undergo a RADICAL trimming with a chainsaw this weekend?
We are truly enjoying being so close to nature out here. Last week saw 3 does in the backyard by the wood-line, which was very cool. No photos because it was in the wee hours of dawn and I generally don't sleep with the SLR next to the bed. 😉 Of course, I say that we're enjoying the nature, but I know those tiny little frogs in the pool (urg!) will be keeping me awake tonight. 😛 How does something SO tiny make such a HUGE noise? 😕