Okay, maybe you don't know this about me, but I have this weird obsession with organizing. Not just *being organized*, but *doing the actual organization*. I actually manage to achieve some sort of endorphine-high through this obsession and it's addictive.  And I'm am always looking for new and better ways to make my life more streamlined and organized.
Fast forward to my discovery of Alton Brown's show "Good Eats" on Food Network. This guy is weird, funny, and makes science and cooking absolutely fascinating. And I've started to "Altonize" my kitchen, which means that I've purged all "one-trick ponies" or "uni-taskers," as Alton calls them. Anything that isn't multipurpose (other than the fire extinguisher) is no longer a part of my kitchen. Alton has this amazing system for organizing his spices (see where I'm going?) and I have lusted after this for quite a while.
Alas, my kitchen in KY was so small that I simply didn't have the ability to put his spice-organization in to place.
But this new kitchen in MI is perfect for it. And so I just ditched all of my Tupperware Modular Mates (hello, eBay!)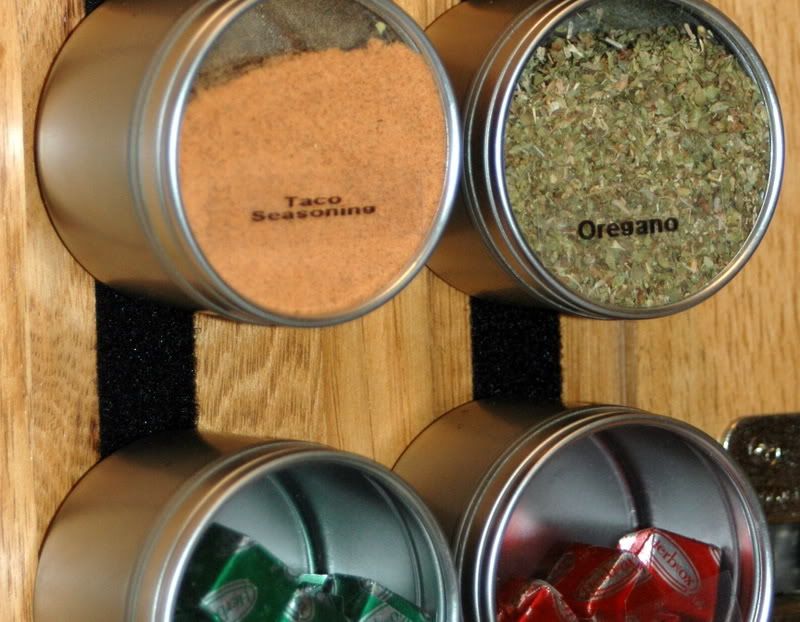 in favour of tin containers with clear lids. These are special containers designed for food (food-grade containers), and although they have the ability to attach to a magnet, I used adhesive velcro on the inside of my cabinets. And I put a small swatch of velcro on the back of the containers.
Can I be honest here?
I LOVE THIS SYSTEM!! 😀

My cabinets look *spectacular* and everything is within easy reach. I preserved just a few of the modular mate containers for things that need to be sprinkled (cinnamon & sugar, seasoning salt, and lemon pepper), but other than that, these things are outta here! And there's something intensely gratifying about defying gravity and using space that otherwise would not be used.
And so I will say from the top of my lungs…errrm…blog… that ALTON BROWN ROCKS!! His little system is so far superior to what I had going and looks so danged cool in my kitchen (I walk in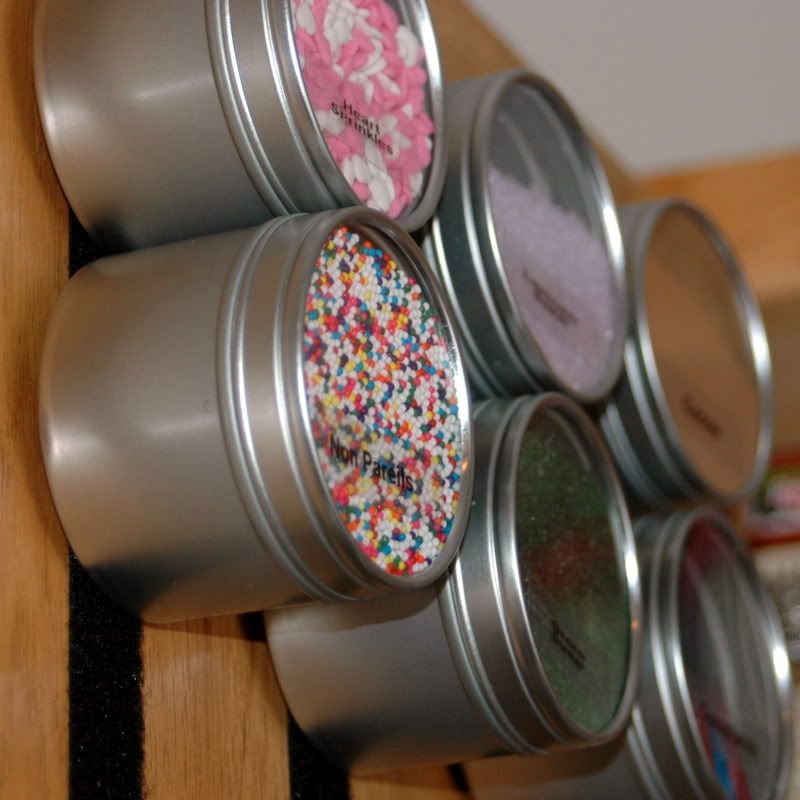 and gaze at my cabinets every so often) that I can hardly stand it. This truly scratches my itch for organization and a better, more efficient kitchen. Because let's face it, although my kitchen is larger than my last one, it's still not the Taj Mahal. It has limitations and I need to work around those in order to be all I can be to my family. And I truly believe that better kitchen-organization is going to help me achieve that goal.
.