..and dozedoats, and little lambs eat ivy…a kid'll eat ivy, too–wouldn't you?" Maybe we should add something about llamas in there, too. 😉
The only reason I know a song that old is because we have it on the iPod–in Brendan's playlist. Disney made the so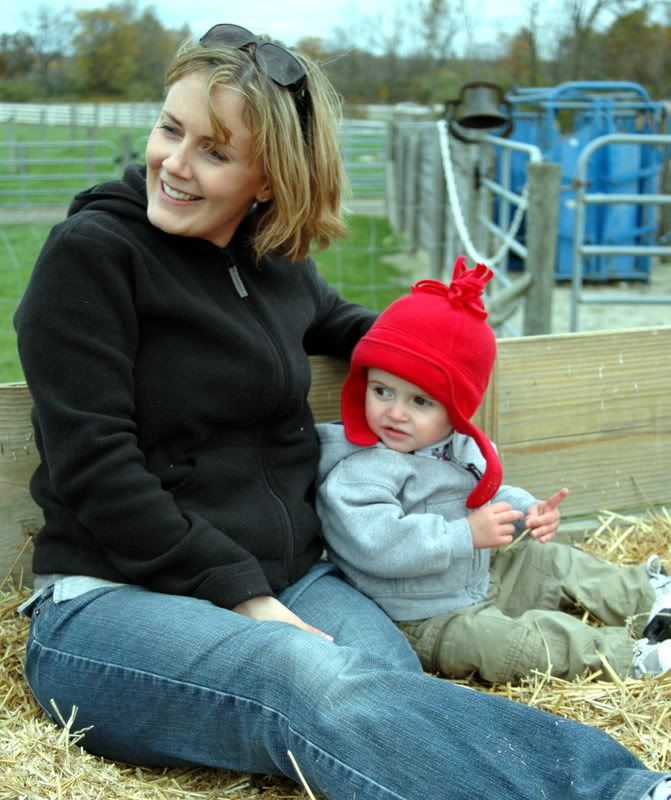 ng available on one of their compilation albums and although I'm quite sure Brendan doesn't understand it, he does love it.
Which leads me to today's adventure…Domino's Farms. We hiked out this morning and were delighted to find no large field-trip groups, just a few other moms and their kids at the farm. Which gave us a great opportunity to chat with the staff at the farm and learn about the animals, their habitats, and their behaviours. Click on the Flickr badge to the right of the post and you'll be able to check out the pictures from the farm–some really amazing animals were there. We saw this llama (named "George"), some goats, sheep, cows, wild Russian hogs (going to town on a pumpkin), some incredibly decorative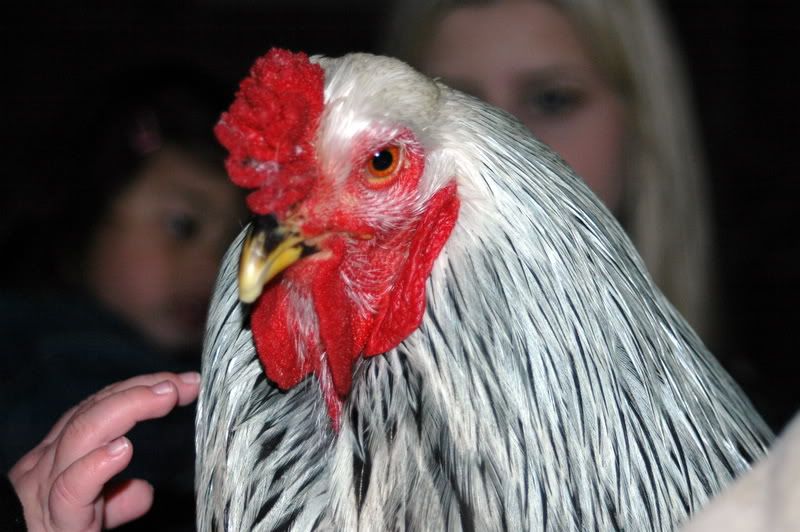 geese, and more.
To the right you'll see "Charlie," who is an incredibly beautiful chicken–and he knows it. He's used to being handled and is quite tame–he even lets us touch his comb and the red parts under his beak (can't think of what it's called). He was just amazing–I've never been enthralled by a chicken before, but this one was different. He was intensely cool and Brendan adored him.
We had a delightful time on a hayride around the farm, learning about the sheep and cattle that lived outside. And the kids really seemed to enjoy themselves immensely.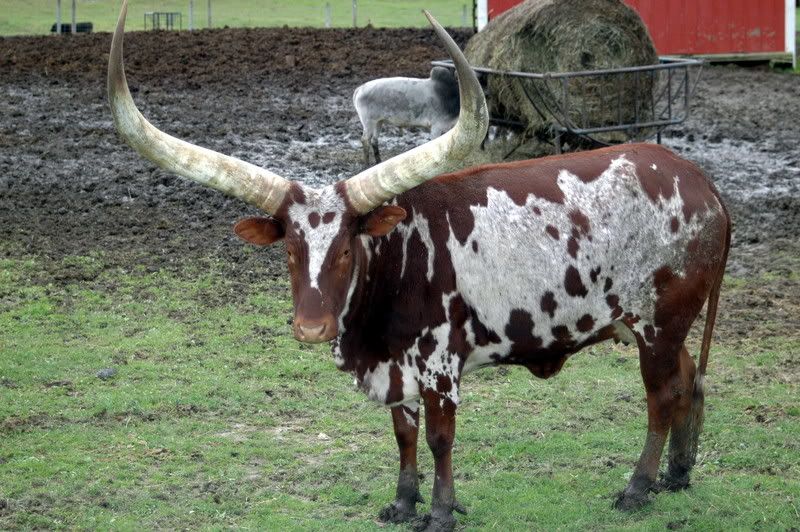 One of the cows (yes, COWS!) is to the right–the rack of horns on her were specific to her breed, and she is impressive. They are breeding the cows 'down' in size, because the farm is limited in space and smaller animals are more condusive to a petting farm, but there were only two males in the entire cattle pen. Several heifers, but most of the cows had given birth before. The smallest male who was there in a "dating service" capapcity was a "zebu"–he must be related to cebus in some way, because he had the similar hump on his shoulders, but I asked for clarification on the pronunciation and was told that it was 'zebu' with a 'z', not 'cebu' with a 'c'.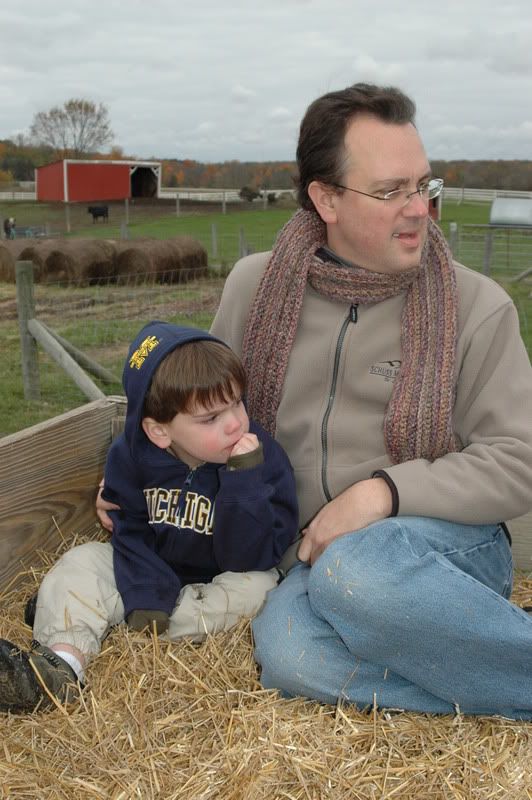 It was a fun morning, even if we were covered in goat- and sheep-spit when we left. But that's what Purell is for, right?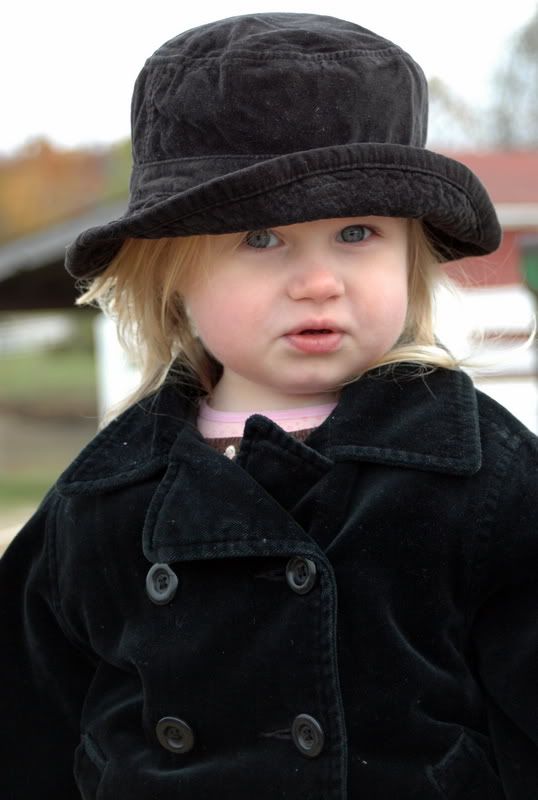 What memories are made are usually messy and/or germy in nature, and cleaning up is a small price to pay for fun and learning in one chilly morning.
This last picture is my homage to cool perspectives and a new camera. I just couldn't resist messing with the depth of field and getting this great image of the fencing at the farm. Just call me a photo-geek! 😉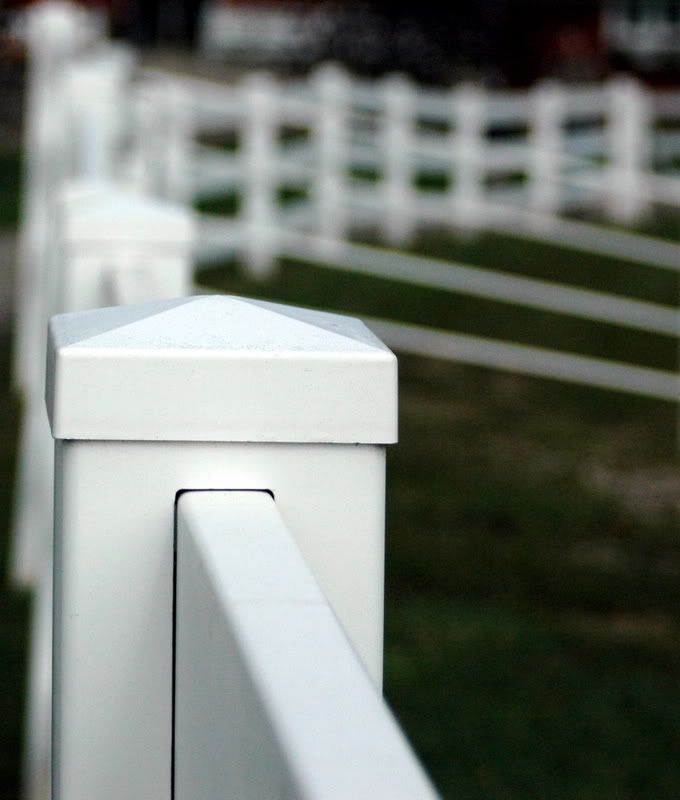 .