The day started out not quite as planned…with the one car key to the rental car (see picture of red car to the right)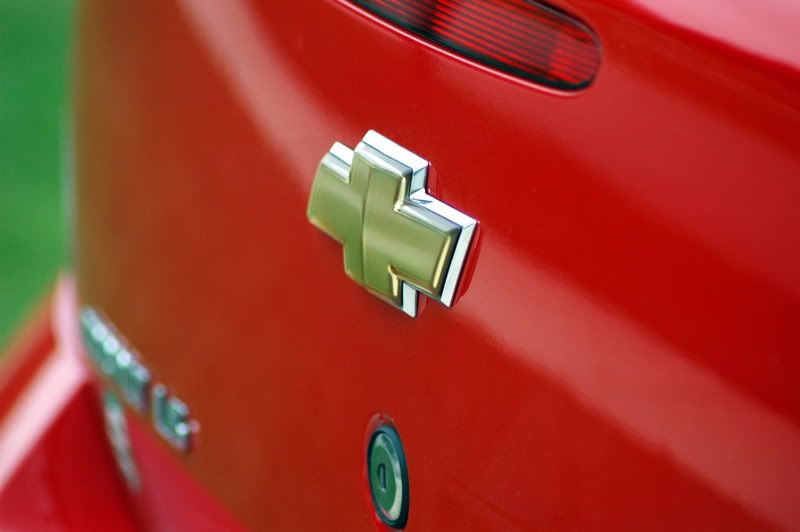 locked in the car. 😐 An accident, to be sure, but frustrating nonetheless. We turned every part of the house upside down and then looked in the car–and I saw a section of the key underneath Brendan's 'car yuvvie' in his carseat. 😮 The previous day when Mark went to gather the soda from the car, he noticed that one had leaked–apparently punctured at some point. And like a dutiful husband, he carefully brought the offending soda in the house and took care of it. And like a responsible adult, he locked the car door on his way out of the vehicle. Unfortunately, the keys were in the backseat. So we called around and finally found a tow-shop that would come out and unlock the car for us. And $45 later, we were on the road.
While the boys napped in the afternoon, I took full advantage of the alone-time I had and played with the macro feature on my 70-300mm lens on the new camera. And so I have some cool shots and great perspective on fall leaves in the neighborhood, some artsy-fartsy pictures of things around Nette's house, and am learning that I've got to do something about the amount of camera-shake I have with such a large lens. So today I'll monkey around with the shutter speeds and see what I can do to avoid the bad pictures that I took yesterday.
We ran errands yesterday, but one of the places we went was Jenny's Farm Market. Yes, they are a business in Dexter, but more than that, they have a kid-friendly reputation and are bit of a kid-magnet for families.
They create a straw-maze every year that kids can explore, have animals around (sometimes roaming), and just make it a great stop in a small town.
The pictures to the right (in the Flickr box) show some of the great fun that we had. Brendan was much more apt to go in the maze due to the fact that he had Daddy's flashlight (see the large black MagLite in his hand) and he's braver now than when he was 3. 😉 The goats had me smiling and giggling–they were "pruning" the mums and other frost-bitten plants, they were trying to eat bags of tortilla chips (complete with the bag!), and generally being incredibly cute. There was a kid born last year, the mama who birthed him (and was ready to pop with another kid), and the papa goat (who was aptly named "Billy") complete with a rack of horns and a wonderful beard. They had free reign of the area and maybe it's an indication of my nature, but they easily entertained me for quite some time. 😉.