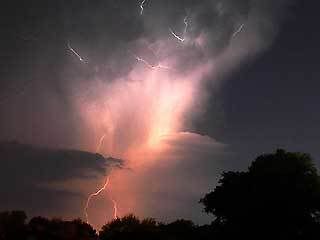 Lexington and the central KY area had some nasty rain last night, and it's continued today. We knew it was a bad storm overnight, but had no idea how much rain was falling. We had a little hitchhiker in our room, too–with the "boom booms" and lightening, there was no way Brendan was going to sleep in his own room. So he was camped out on the floor next to our bed and amazingly enough, was oblivious to most of it. 😉
We were shocked to wake up and see the news reporting that we'd gotten 6″ + in the general area. Flooding was and is a problem–the coun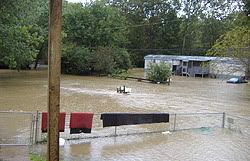 ty we live in buts up to a portion of the Kentucky river, and those areas are low-lying, but other spots were also compromised when the drainage systems were overwhelmed.
There have been about 7 people who have lost their lives as a result of the flooding–two women who were reportedly swept in to a drainage ditch and drown when getting out of a taxi.
There were also trailer parks in this county that were overwhelmed by the rising waters–apparently, the area in which the trailer parks exist is very low and susceptible to flooding.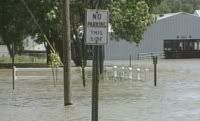 ~~~~~~~
Oh, there's one MAJOR victory dance going on around here…between last week's victory over Notre Dame and this week's trounce of Wisconsin, my Michigan Wolverines are lookin' goooood! 😀 I'm one very happy football fan today and have been incredibly happy with the way our QB, Mr. Chad Henne, has been performing.
M GO BLUE!