We laid the new vinyl on the kitchen floor this weekend, which explains the absence of posting. I am so tired from our destruction and construction work that I couldn't hold my head up, much less hold the computer and write. 😮 We ended up tearing up the vinyl and fixing the weak spot in the subfloor that we knew was there and then placing a leveler (a mastic-type of product that made the wood subfloor look like concrete) on it. The weak spot was worse than I imagined it was, but according to our friend Eric, it wasn't a bad job to replace. Two hours later, the subfloor was cut up and replaced, and that included a short break for lunch.
Then we mixed up the mastic/leveler according to the bag and tried to spread it out. The key word there is "tried." It was like concrete and set up just as quickly.
I distinctly remember the guy at Lowe's saying that it should be thin and easy to spread, and that it was a very thin coat to level the natural variations and divots in the wood. So we go as much use out of that as we could, thinning it in the middle of the application. The next batch we mixed up was done at a 1:1 mix, and then we added more of the leveling powder to get a slightly thicker constitution. And *that* batch was perfect. We finished up the rest of the floor and took a break while it dried completely. :::phew:::
We began laying tile and trying to figure out which way we wanted the tile to be oriented at about 2:30pm. We worked for several hours and took a dinner break–because my stove was unplugged and my sink was out of commission (from having to move the dishwasher), Subway did our cooking. 😉 Some of the parts were tricky–cutting the tile so it would snug under the existing door moulding and dealing with the genius who drove a finishing nail in to the subfloor underneath the quarter-round (it wasn't connected to the quarter-round at all) were two of the most complicated. But we did it.
I had to run back to Lowe's and exchange a box of the tile–instead of the 30 tiles per box we were charged, it only had 28 in it. And I was pretty sure we would need all of them. So I trouped out to Lowe's and did that while Mark took a few minutes rest. I also managed to return several things we purchased and didn't end up using–everyone said, "Oh, you will need kneepads or something to kneel on, or you won't be able to walk afterwards!" Well, they were right about the not being able to walk, but our knees were completely fine. Our backs, however, were a different story. 😮 And there are no "back pads" that keep your sacroiliac from reminding you that you're not 18 anymore. 😐
We finished up around 10:45pm, having put the stove, fridge, and dishwasher back, and decided to pop a couple of Aleve before crawling back to bed. Oh, *that* was a good decision! 😀 We both felt great the next morning and our backs never gave a single complaint while rolling out of bed.
I guess I should post pictures, huh? Well, I'm pretty pleased with the outcome, even though we still have to replace the quarter-round (we couldn't salvage what was already there). Once the quarter-round is done (this week), this kitchen will be d-o-n-e. Which is pretty darned satisfying.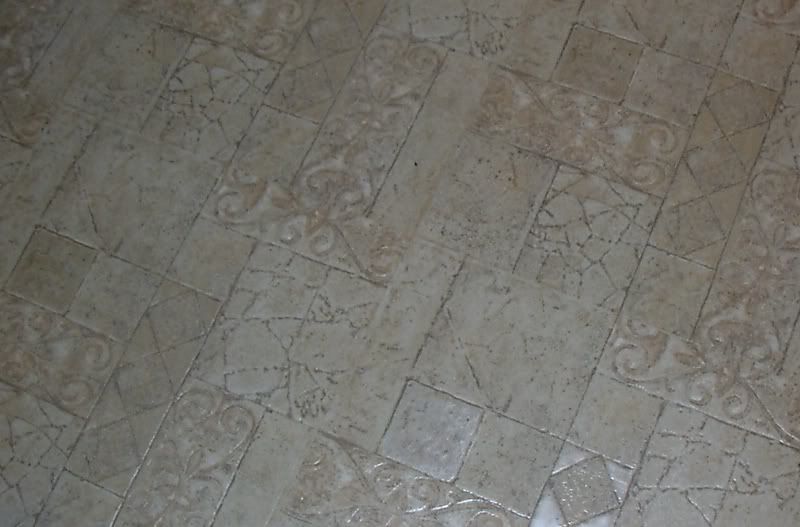 This is a shot of the finished floor–just illuminated by the flash on the camera.
And to the right, you'll see a photo that has higher contrast to show the detail of the flooring. The real image in my kitchen is somewhere between these two pictures.
And finally, here's the wall from the chair rail down. We re-papered it about 8 weeks ago and repainted above the chair rail (a warm cream colour) about 4 weeks ago. It looks really sharp with the floor, but because the quarter-round has yet to go up, I didn't take a picture that shows everything in one fell swoop. Ah well.
Our final project will involve hiring someone to replace the rotted out threshold from the kitchen to the deck. We knew it was soft, but had no idea that the screws holding the threshold down were rusted and wouldn't come out without prying. And then we realized as we hit rotted wood all the way down that we were in way over our heads. So someone is coming out tomorrow to take a look and give me a bid–and hopefully fix it quickly.
Such is the life in my household these days–always another project, but the finished product is looking better and better every day.
.