We watched the infant daughter of friends of ours last week. This little girl and I have some cosmic connection–I joke that it's a redhead-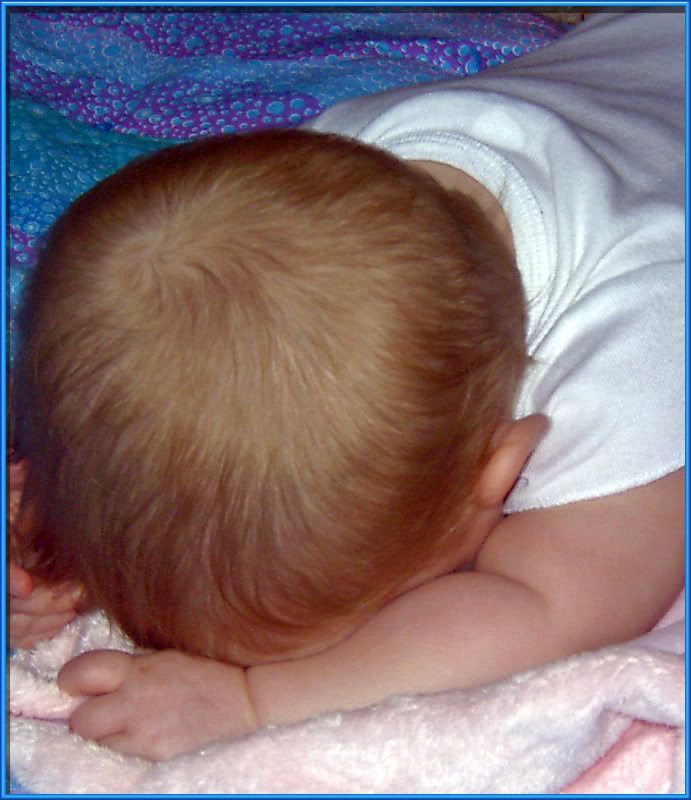 thing. 😉 She's a bright little ray of sunshine and is so engaging with her smiles. So of course I decided to pull out the camera while she was here.
I'm telling you what–that little booger ducked her head down to the floor each and EVERY time I tried to snap her picture! Mark says it was the flash that was off-putting to her, but she reacted similarly when there was no flash at all.
I've never seen suc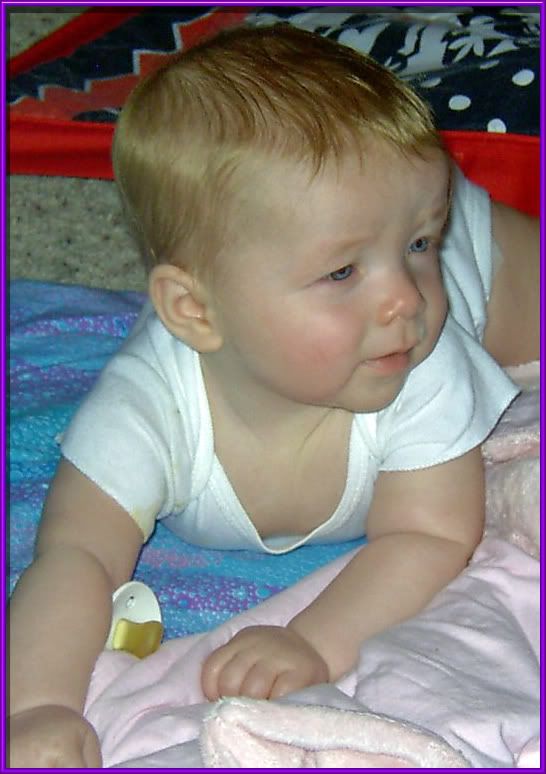 h a Pavlovian reaction by a baby to a camera. Maybe it was the beeping my little cheap digi camera makes (someday I'll get a good digi SLR), or maybe she was just trying to vex me.
But what I'm posting here is the best I could do, and I edited the heck out of them to make them look even remotely respectable.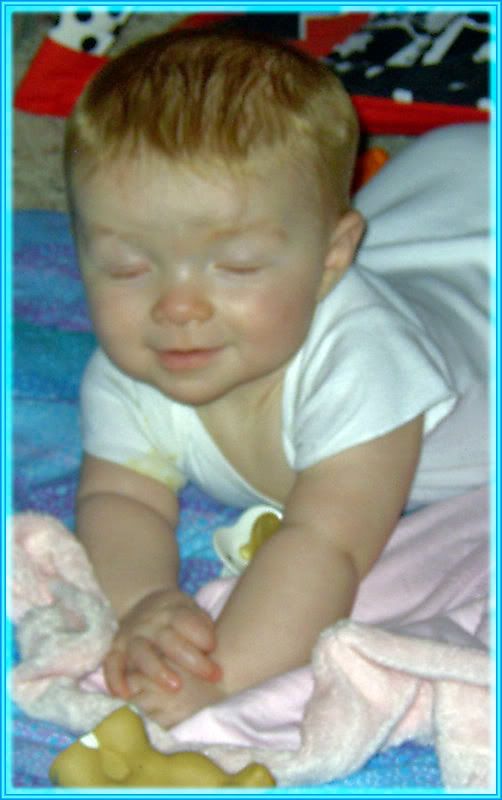 ~~~~~~~~~~
One final picture…Brendan decided yesterday that he HAD to go outside and play in the rain. It was misting and

in the summer I'm not so opposed to playing in the rain. But he had a low-grade fever yesterday, and somehow he knew that I wouldn't be so keen on letting my mildly-ill boy play in sprinkles. So he *promised* (I believe it went like this: I promise, promise, promise!) that he would wear his raincoat outside. And then he realized that sandals would let his feet get wet, so he decided to put on "feet inside shoes." And *that* required socks. So my 4 year old boy put the raincoat on, the knee socks (purchased several years ago when it was cute to put him in shorts and long socks as a young toddler), and the tennis shoes. He thought he was quite a stylin' kid. I'll let you decide for yourself. But I don't think he's hit any sort of new fashion trend or that anyone in Paris will look to him for what-to-wear-cues. 😉.