Thank you for your patience in a lack of posting for the past two days; we buried my grandfather on Saturday and travelled to KY yesterday. So tired and bedraggled and still emotional, I start back to real-life.
I want to honour my grandfather and his memory here as well as reflect on my feelings about the funeral and services.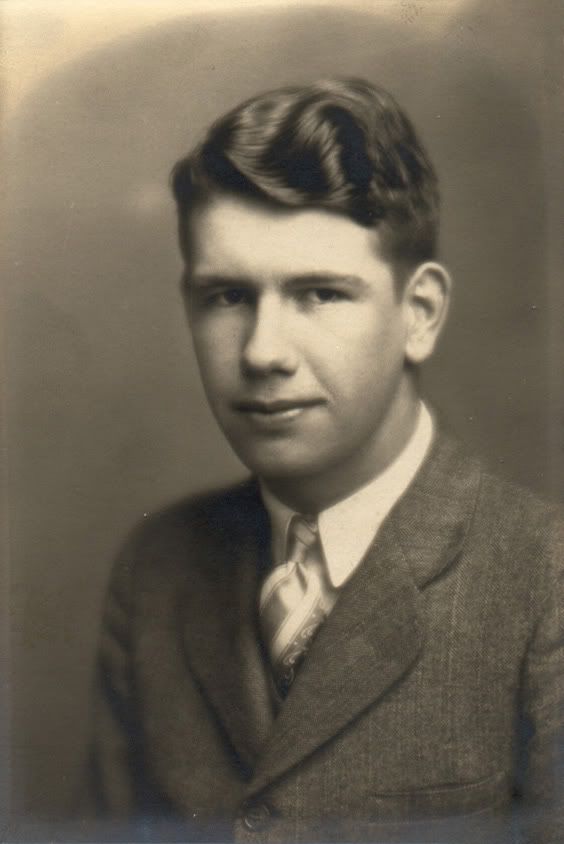 John C. Jasper was born on February 9. 1910, in Adrian Michigan. His parents had 6 children–Alfred, Alma, Hazel, Leslie, John, and Frances. He grew up farming and stoutly raised in the St. John's Lutheran parish in Adrian. The picture to the left was taken at his high school graduation and decorated the dresser of my mom's room as a child.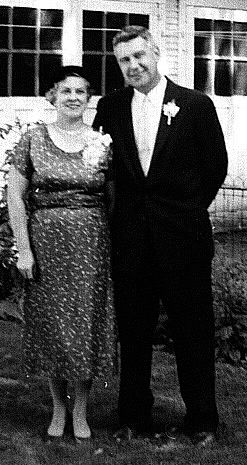 John met Suzanne Adams and the pair married in 1931. They raised 3 children–John E, James M, and Susan E. The photo here is from their 25th wedding anniversary, but that was long before my birth.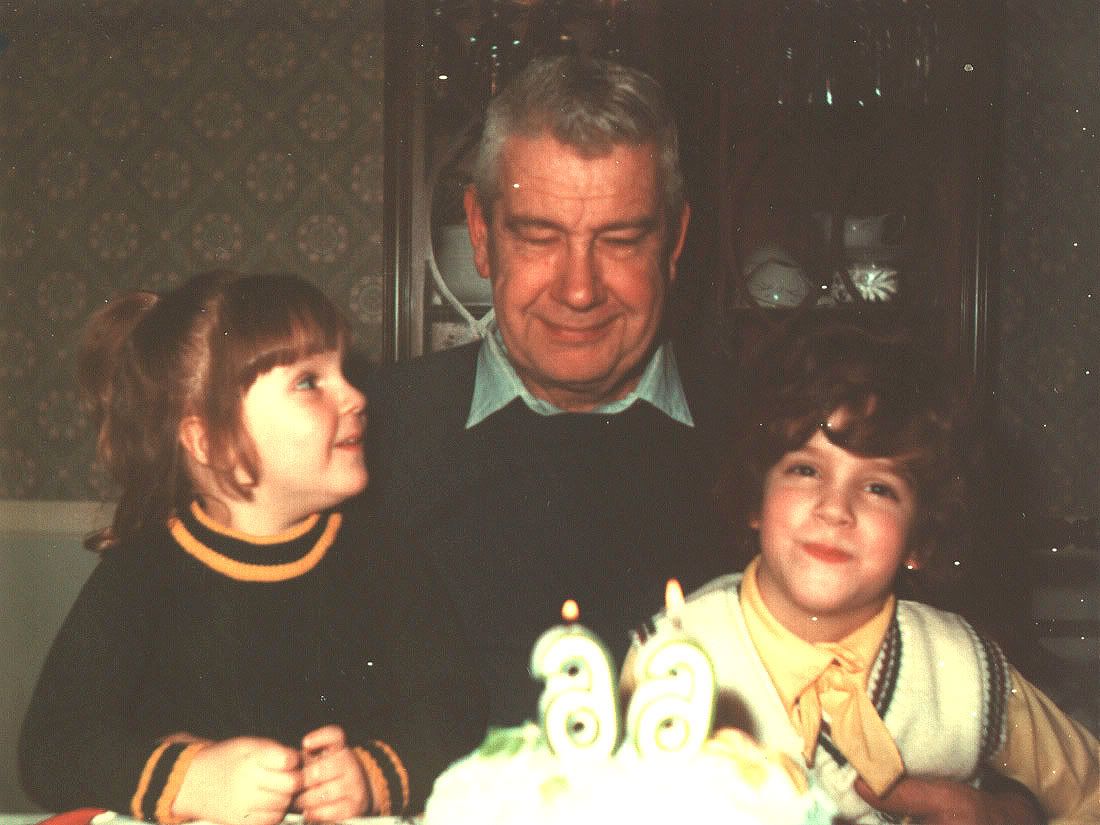 Grandpa and Grandma were active in our lives as children, as you can see from the next picture. It was John's 66th birthday, and he had my sister Wendy and me on his knee as he blew out his candles. Grandpa wore terry-knit tiger-striped jumpsuits (as a robe, courtesy of my mom's sewing skills) when he and Grandma stayed at our home; he spoiled us with Aim toothpaste and Oreos (counterintuitive, I know), and told us stories that enthralled us for hours.
Grandma died in 1976, about 5 months after the birthday picture was taken. The whole family had just spen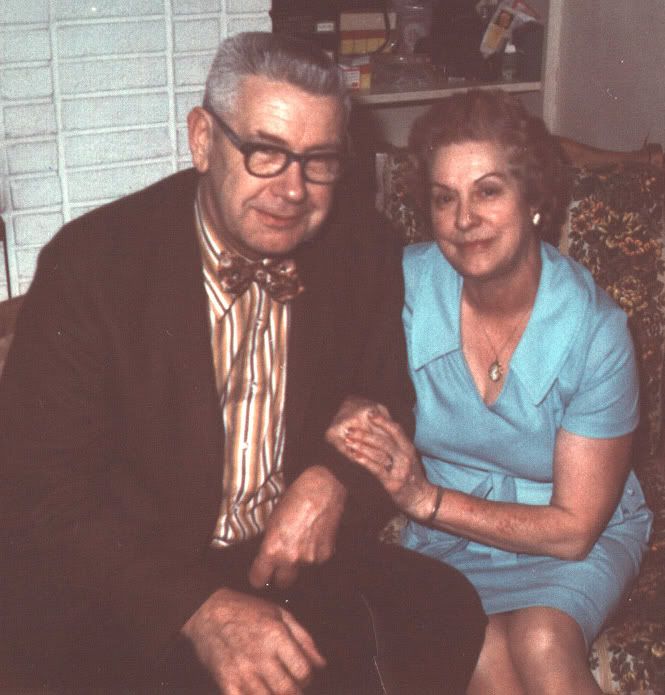 t time together at the joint 45th-anniversary/retirement party that my parents threw for Grandma & Grandpa at the house on Island Lake Road. I don't know what the date of this picture is, but it is one of my favourites–I remember the chair Grandma's in, the fireplace, and how everything looked in their living room on Evanston in Detroit.

In 1978, my family moved to Hiroshima, Japan. In 1979, at the ripe age of 69, Grandpa took a trans-continental flight (several, actually) and spent 4 weeks with us in Itsukaichi, Japan. I imagine it must've been very different for him, having been 31 when Pearl Harbor took place and 35 when the war in Asia was ended with the surrender of Japan. He brought several bags of things with him–all carefully inventoried on notebook paper and the lists tucked in his jacket-pocket. His memoires of Japan are being cataloged now–my uncle Jim gave me the box full of things on Saturday afternoon. His English-Japanese pocket dictionary was well-worn, and he had all ticket-stubs, boarding passes, and photos of his time with us.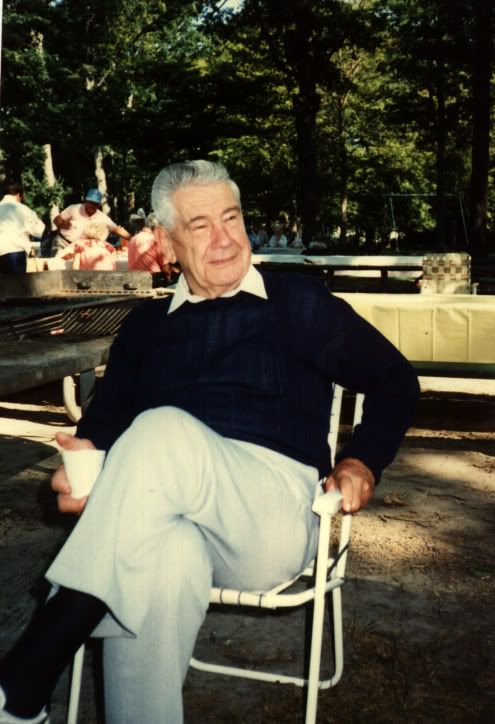 One of the best pictures we have of Grandpa was taken at one of his senior-center picnics. He was vibrant, healthy, and active for so many years. My Aunt Sandi framed it and used it at the funeral–it truly is one of my favourites.

~~~~~
The funeral started with the family gathering at the church and caravaning out to St. John's Cemetary in Adrian–the Jasper family plot is there. I was very emotionally impacted by seeing my grandmother's headstone; I was genuinely not prepared for that. It had been at least 15 years since I'd been there and it was very strange to see her (and my) name in front of me. When we'd had dinner with my parents on the evening before, my mom commented on how much I was like my namesake–I enjoyed the same things she did and responded similarly to her. So seeing her tombstone was hard. The ceremony was short and sweet–we had the pastor from St. John's read some scriptures and watched our parents bury their father as the sweat beaded up and ran down our backs, pooling at our waistbands. It was one of the hottest days in southern Michigan's history, and we had only tasted a bit of it at that point.
We drove back to the church and greeted visitors and mourners–many family members whom I had not seen in 7 years. Some former co-workers of my dad came to the service, which was intensely kind of them. Mom's dear friend Bonnie Eisenbeiser came as well–and had fond memories of our family. And the cousins and second cousins poured in. The service was brief–thankfully. When the parish was built, it wasn't built for electricity (it was that old!), and didn't have air conditioning, so it was steamy inside.
My aunt spoke about Grandpa's love of history and family geneology, my cousin spoke of her memories, and I told our family of his love for weaving tales and the special things I remembered (like the Oreos in the drawer next to the sink and the Aim toothpaste), and how I was trying to preserve his storytelling with my proclivities for writing. My dad then spoke about Grandpa's legacy and wove in some great historical-connections–how old John was when WWI started, when women won the right to vote, and the like. It was truly a chance to remember the man and his creative skills and life history. The pastor, although he didn't know my grandfather, spoke eloquently of life and grief and the Source of all Life and Hope. I was highly impressed with his homily and how he presented the Gospel to the congregants.
God had given me peace about Grandpa's final resting place several months ago, and I clung to that peace. And besides doing it as an act of faith, I had good reason to do so; my cousin Carla prayed with Grandpa in May and he understood (and remembered) what he'd prayed a week later. He loved God and his family, and this step was one that gave all of us believers deep encouragement.
After the service, we drove to the site of the luncheon and wake and enjoyed each other's company. It was wonderful to get to reconnect with cousins and talk about future plans and reunions that we (as the younger generation) would plan and execute. It was truly a great time, despite the reason for our gathering.
We drove back to Dexter (Brendan fell asleep about 15 minutes from Dexter…grr….) and mingled with Nette's work-party-guests. Or at least, I attempted to do so. I really found myself needing some alone-time (and craving a margarita), so I ran to the grocery to pick things up for our trip the next day and to procure said-margarita mix. When I returned and refrigerated the necessary items, I took the box up to the bedroom and began going through things.
When I tell you that my grandfather was a pack-rat, you'll get a mental-image of what he did. But when I tell you he was a Depression-era adult AND a pack-rat, you'll have a clearer picture of what I found in the box. 😉 Much of it was duplicated and/or indiscernable (I couldn't read it due to age/heat/water damage, etc.), but what was salvageable was wonderful. I loved going through the pictures, handwritten memories, and other reminders of Japan. But it was bittersweet–I didn't want to do it at all (I really just wanted my grandfather back), but I enjoyed the reminders of him that I found.
The grief has been intense and deep–John Clarence Jasper has been in my life for its entirety. There is a void there that no one will fill and no one can replace him. But I also know I'll get to spend eternity with him, and for that, I'm intensely grateful. As I grieve for my grandfather, I know I'm also re-living a bit of Emily's grief and shock. I know it will get better, but right now, I cry frequently and remember all of the great things about the man I intended to visit on Wednesday afternoon, but never had the chance..